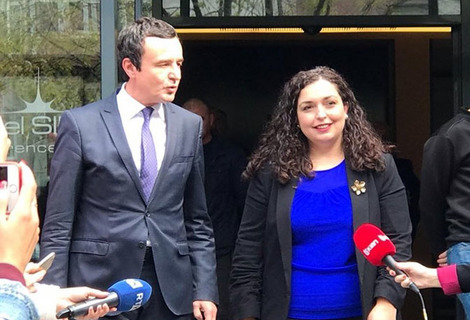 The Vetëvendosje Movement (LVV) invited the other parties to discuss developments in the country, including the issue of the president.
The Vetëvendosje Movement nominated Vjosa Osmani for the post of President of Kosovo, with 80 MPs required for her to be elected. In the last elections, the Self-Determination Movement elected 58 deputies. That is why on Thursday LVV leader Albin Kurti penned letters to the parliamentary parties to kick off consultations on the post of President.
In a letter by Vetëvendosje leader Albin Kurti and presidential candidate Vjosa Osmani to the rest of the party leaders, it is noted that the meetings would take place in a 1+1 format, scheduled to kick off at 11 pm on March 15 with PDK leader Enver Hoxhaj.
As the letter states, the meeting will take place "in order to complete the process of establishing the institutions as soon as possible and in full compliance with the country's Constitution and applicable law."
In the February 14th elections, Vjosa Osmani, who left the Democratic Union of Kosovo, received more than 300,000 votes on the LVV list. /ibna