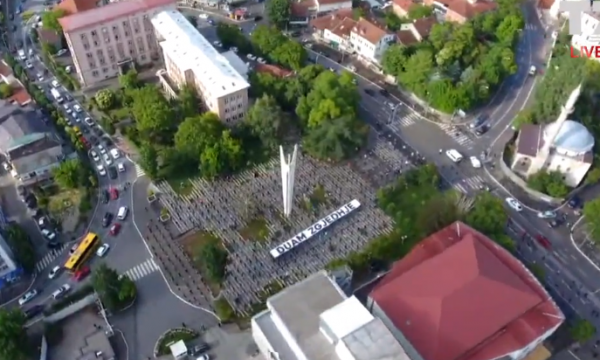 More than 2,000 supporters of the Vetevendosje movement gathered in Pristina's main square for the "Protest Rehearsal 2", during which they raised a huge banner that read "We want elections", opposing Hashim Thaci's decision to form a new government and trying to influence the decision of the Constitutional Court on the constitutionality of Thaci's decision expected to be issued tomorrow.
The movement's leader and caretaker Prime Minister Albin Kurti appeared on one of the balconies of the government building to greet the crowd, which responded by chanting his name and applauding.
Organizers painted red dots in Pristina's main square and called on citizens to gather for a protest rehearsal, warning for a real rally in the event that the Constitutional Court ruled in favor of Hashim Thaci's decree giving Avdullah Hoti of the LDK the mandate to form a government.
Vetevendosje challenged Thaci's decree at the Constitutional Court, claiming that the president's move was unconstitutional. Kurti insists the president should call early elections after his government collapsed following the 25 March motion of censure initiated by his former government ally, the Democratic Union of Kosovo (LDK). The constitution fails to clearly define the timing of the formation of a new government following a motion of censure and the vote of no confidence in parliament to the government. The Court imposed interim measures on the President's decree until 29 May pending a final decision. The media reported on Thursday that a court ruling is expected today, as judges have been convening since Thursday afternoon./ibna