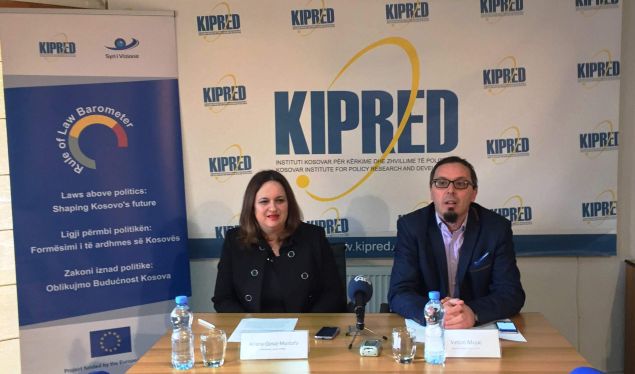 Pristina, April 2, 2015/Independent Balkan News Agency
By Elton Tota
As a result of the lack of the visa liberalization regime, Kosovo and its citizens are facing isolation, which besides the internal social-economic situation, it has also contributed for mass illegal migration of Kosovo nationals in the recent months.
This was said during the publication of the report "Kosovo toward the EU, the Challenge of Unlawful Migration" published by the Kosovar Institute for Policy Research and Development (KIPRED) and Vision Eye (SiV).
Ariana Qosaj-Mustafa, researcher at KIPRED, said that the citizens are suffering from unemployment and corruption.
"Citizens of Kosovo continue to suffer systematic problems and corruption amid senior officials, who restrict their employment opportunities. They also threaten a sustainable business environment, due to nepotism and corruption which has widely spread", Qosaj-Mustafa said.
She said that amid this systematic corruption, Kosovo is in danger from social unrest, due to the serious economic situation, deteriorated from the institutional gridlock which lasted six months in 2014.
"This social situation remains a problem for the newly elected government. The mass returns from EU countries will only deteriorate the situation. Therefore, government of Kosovo must be prepared for the return of emigrants, by making their return a priority", she added.
Based on this report, the numbers offered by EUROSTAT are worrying. According to Qosaj, from November 2014 until March 2015, 57 thousand and 945 citizens have left Kosovo to seek asylum in EU countries.
"Results in the fight against corruption may have an impact in minimizing the factors that encourage unlawful migration", says among others KIPRED report.
This report is part of a series of publications in the framework of the project "Delivery of EU requests for good governance and further European integration for Kosovo". /ibna/