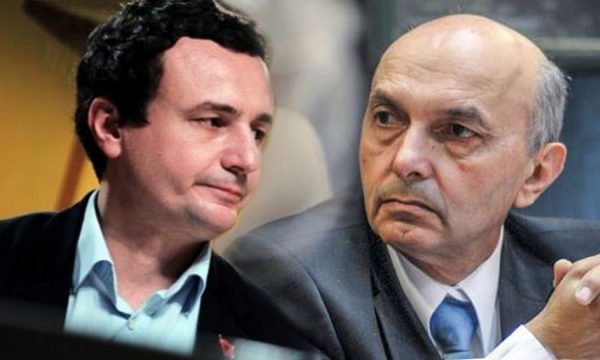 The president of the Democratic League of Kosovo (LDK) Isa Mustafa stated at a news conference on Wednesday night that his party would be launching a motion of censure against Albin Kurti's government.
Οn Wednesday, Prime Minister Albin Kurti dismissed Minister of Internal Affairs Agim Veliu on the grounds that he was spreading panic and favoring the position adopted by Kosovo President Hashim Thaci, who proposed that a state of emergency be declared due to the COVID-19 pandemic. Prime Minister Kurti opposed the President's proposal, stressing that the state of emergency constituted an extreme and unnecessary measure.
Speaking to the Press after the party's steering committee convened, Mustafa said Kurti had not shown respect to the coalition agreement, since he had not consulted with the LDK when he decided to sack Veliu.
"Today, an LDK minister was fired in violation of the coalition agreement", Mustafa stated. He also went on to note that the decision to submit a motion of censure also came as a result of Kurti's refusal to reduce tariffs on Serbian products, as requested by the United States.
"On March 12, I met with President Vjosa Osmani and Deputy Prime Minister Avdullah Hoti and asked him to abolish all duties as requested by the US, since jeopardizing the quality of relations with the US is not in our country's best interest", Mustafa said.
He concluded that he had not received a positive response despite his request, adding that 15 March was the deadline for the abolishment of duties by Kurti. /ibna