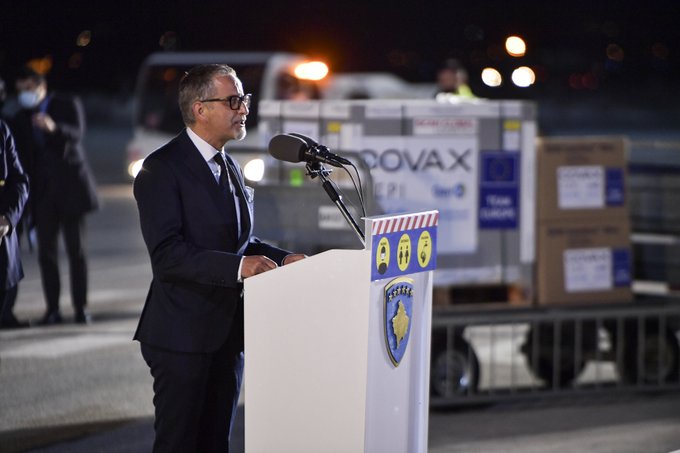 AstraZeneca's first shipment of COVID-19 vaccines arrived in Kosovo on Sunday afternoon and vaccination will begin in the coming days.
Kosovo has received 24,000 doses of the AstraZeneca vaccine through the COVAX program and authorities will initially start vaccinating health workers and the vulnerable population.
Kosovo Prime Minister Albin Kurti has said the arrival of the first batch of vaccines will save lives. "This is a small shipment, but it gives our country a lot of hope that we will be able to save lives, especially of medical staff and vulnerable people", Kurti told media at Pristina Airport where himself and Health Minister Arben Vitia were awaiting the arrival of the vaccines.
https://twitter.com/albinkurti/status/1376247705433993217?ref_src=twsrc%5Etfw%7Ctwcamp%5Etweetembed%7Ctwterm%5E1376247705433993217%7Ctwgr%5E%7Ctwcon%5Es1_&ref_url=https%3A%2F%2Fibna.gr%2Fnews%2F2021%2F03%2F38085%2F
Kurti said Kosovo has lost time in receiving vaccines, but added that the time has come for action and vaccination will begin without delay. Kurti thanked the United States and the European Union for being the main donors to the GAVIC COVAX alliance.
The health minister said Kosovo would launch a new phase against the pandemic through vaccination. He said he had discussed the vaccination program with the relevant ministries and would start vaccination this week.
US Ambassador to Kosovo Philip Kosnett, who was at Pristina airport, welcomed the arrival of the first vaccines. "I'm glad I was there when Kosovo s first vaccines arrived tonight. The United States is a proud contributor to the Covax multinational initiative. "#TogetherWeCan #Vaksinohu", Kosnett wrote on Twitter.
Pleased to be present when Kosovo's first vaccines arrived tonight. The U.S. is a proud contributor to the multinational Covax initiative. #TogetherWeCan #Vaksinohu. pic.twitter.com/SAbrHeaLoR

— Ambassador Philip S. Kosnett (@USAmbKosovo) March 28, 2021
Riccardo Serri, deputy head of the EU Office in Kosovo, said the day marked the beginning of the end of COVID-19 in Kosovo, while British Ambassador Nicholas Abbott said he hoped the vaccination process would be implemented soon.
Kosovo will benefit from the COVAX alliance with 100,800 doses of AstraZeneca vaccines. The number of new COVID-19 cases in Kosovo has risen in recent weeks. On Sunday, 914 new cases were recorded, the highest number of infections in one day in 2021.
Since March 2020, when the first cases were confirmed, Kosovo has recorded 87,981 COVID-19 cases and 1,840 deaths.
Kosovo authorities have approved a three-phase vaccination program: In the first phase, authorities will vaccinate health workers, nursing home patients, citizens over the age of 80 and those with chronic illnesses. The second phase will focus on education workers, pandemic management and 65 to 79-year-olds. In the third phase, the state will vaccinate 50% of the population./ibna