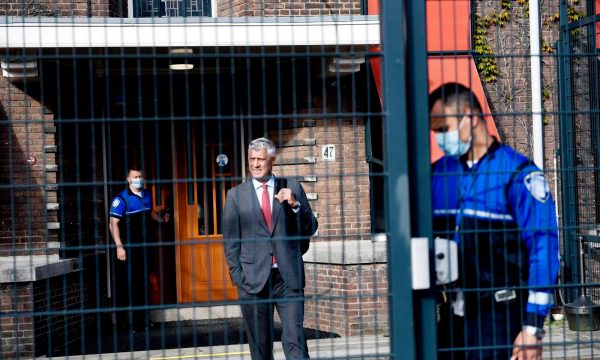 Hashim Thaci, former Kosovo President and one of the founders of the Kosovo Liberation Army (KLA), will appear before a Kosovo Special Chamber pre-trial judge for the first time today, to be informed of the indictment and to plead guilty or not guilty.
Hashim Thaci, who was arrested in Pristina and transferred to The Hague on November 5, asked to appear in court before November 10, according to court documents, but without specifying the reasons. The court accepted the request and at 15:00 (local time) he will take the stand.
Hashim Thaci will be represented in court by lawyer Dennis Hopper, who has already submitted a number of observations to the court, the content of which is currently confidential.
In his first appearance before the Court, Thaci will hear the indictment in which, along with Kadri Veseli, Jakup Krasniqi and Rexhep Selimi, they are charged with war crimes and crimes against humanity.
The Judge will then summon him to plead guilty or not guilty to the charges against him. Thaci can decide immediately or within 30 days, at a new hearing.
At the beginning of this hearing, the court photographer will have the right to take a photo of Thaci at the stand and citizens will be able to watch the hearing online on the Special Chambers website.
Today, before Thaci, Jakup Krasniqi will appear before the Court for the first time, while Kadri Veseli and Rexhep Selimi on Tuesday morning and afternoon respectively.
All four are charged by Attorney General Jack Smith with war crimes, including about 100 murders of Serbs, Roma, Albanians and their political opponents./ibna