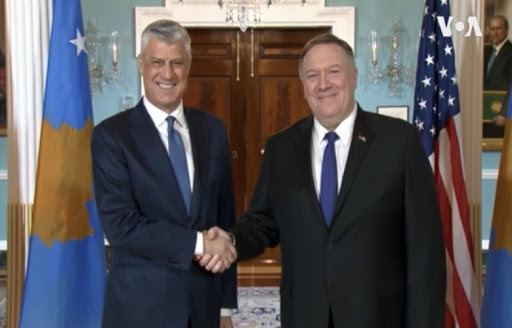 US Secretary of State Mike Pompeo met with Kosovo's President Hashim Thaci in Washington.
Mike Pompeo reaffirmed the strong partnership between the United States and Kosovo, rooted in the continuous commitment towards their shared values ​​and in the US support of a sovereign and independent Kosovo. The Secretary encouraged Kosovo to capitalize on the potential of recent letters of intent to establish air, rail and road links between Pristina and Belgrade. The US Foreign Minister also noted that he expected Kosovo to reduce its import duties upon Serbia in order to fully maximize the economic and commercial benefits for the citizens of the two countries, an essential step in revitalizing the negotiations on a comprehensive agreement.
Mike Pompeo congratulated Kosovo on carrying out successful democratic elections and on forming a government, reinforcing the notion of rule of law and economic development to ensure Kosovo's future prosperity. The FM reiterated the steady US support for the Special Chambers of Kosovo, the contribution of which is pivotal in bringing justice to the victims and strengthening the rule of law in Kosovo.
For his part, Hashim Thaci noted that "the final peace agreement between Kosovo and Serbia will mean peace for the whole of Southeast Europe; a move towards the future, as well as growth and prosperity".
Thaci added that Pristina would continue to coordinate "every step of the way" with the US, while expressing the deep appreciation felt by the people and institutions of Kosovo for the continued support demonstrated by the United States in recent decades.
Earlier, Hashim Thaci had a meeting with Deputy Secretary of Defense David Norquist. The US official underlined it was vital for security in Southeast Europe that Kosovo become a NATO member as soon as possible.
Thaci expressed gratitude for the US support in the establishment of the Kosovo Army and called for further co-operation.
Kosovo has its own professional army in accordance with NATO standards, ready to participate in humanitarian and peacekeeping missions around the world, side by side with the United States – Thaci concluded. /ibna