Kosovar President Hashim Thaci, who is on an official visit to Albania, was received today by President Ilir Meta and Prime Minister Edi Rama.
Ilir Meta stressed the importance of continuing the dialogue between Kosovo and Serbia on the final normalization of relations between the two countries, which would guarantee not only mutual recognition but also their future in the EU.
"We expressed our readiness to continue the cooperation between our two countries, in order to successfully overcome the socio-economic consequences of the COVID-19 pandemic, for citizens to return to normal life and to achieve the full stabilization of free movement of people and goods, especially given that the summer tourist season is approaching", said Meta.
As he said, "the coexistence of Albanians and Serbs is in the interest of peace, stability and the European perspective of our region".
During the press conference, President Meta noted that "we agreed with Thaci that Kosovo must continue on the path of strengthening its democratic institutions".
"I believe that, despite the different approaches in relation to the recent decision of the Constitutional Court, we have had a peaceful and democratic transition of the new government in Kosovo. That is why I would like to congratulate former Prime Minister Albin Kurti, whom I thank very much for our cooperation during these months. Again, Kosovo constitutes a positive example of respect for institutions. I hope to achieve the highest level of cooperation against all the challenges we face today. We will always support the will of the Kosovar people and we will always respect the Constitution and the institutions of Kosovo", Meta stated.
President Thaçi was also received today by Prime Minister Edi Rama, who posted on Twitter "With the President of Kosovo, after a brotherly conversation as always".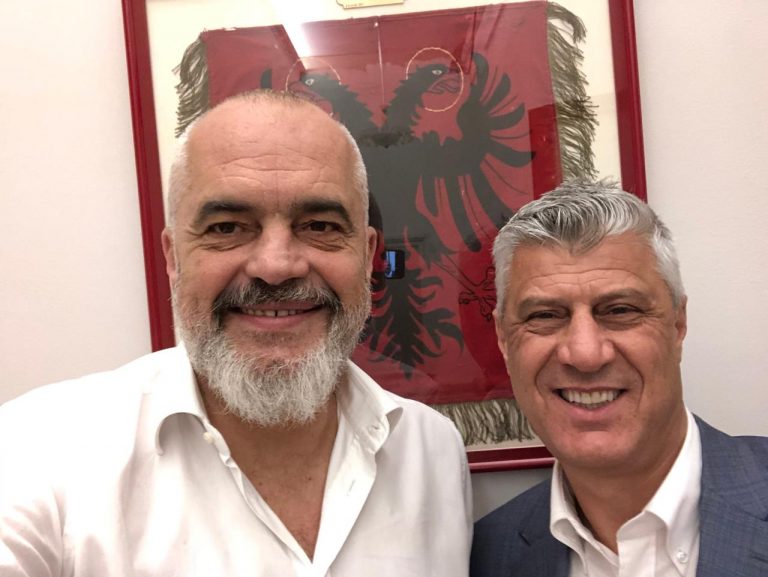 Kosovo's President Hashim Thaci said that "Kosovo and Albania have always been in each other's arms and they must continue the path of Euro-Atlantic integration inseparable".
Speaking after the meetings in Tirana today, Hashim Thaci said that "Today, with the President of Albania, Ilir Meta we discussed about resuming normalcy for the citizens of our two countries".
"The sooner the two governments resume cooperation, the sooner we will regain the economies of our countries. We also talked about the importance of relaunching the dialogue with Serbia, with which we expect to complete all open issues with Serbia and to bring mutual interstate recognition", Thaci concluded. /ibna