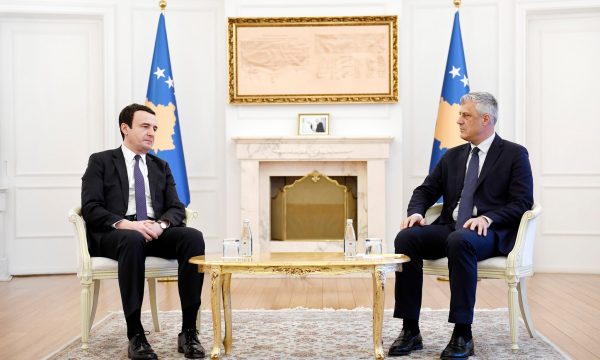 Conflicts continue between Prime Minister Albin Kurti and Kosovo President Hashim Thaci, which began last week with the Prime Minister's rejection of the President's proposal to declare a state of emergency for the coronavirus.
New controversy erupted by the Government's decision on Monday to impose strict restrictions on the movement of citizens, with the aim of preventing the further spread of the coronavirus.
President Hashim Thaci was quick to respond, saying the government's move was a "blatant" violation of the constitution, adding that citizens were not obliged to respect the measures.
The clash between Prime Minister Albin Kurti and President Hashim Thaci comes amid a coronavirus pandemic, as the number of people confirmed positive for COVID-19 increased to 61 on Monday night.
The Kosovo government has decided to restrict the movement of vehicles and citizens from 10:00 to 16:00 and from 20:00 to 06:00. The decision was taken during a government meeting held by teleconference over the measures for COVID-19. Health Minister Arben Vitia proposed these measures on Sunday to prevent the further spread of coronavirus.
However, President Hashim Thaci said during an extraordinary press conference that the government's decision was invalid and citizens were not obliged to respect it. According to President Thaci, only Parliament can take such measures. "The decision to restrict the free movement of citizens is a violation of the human rights and freedoms guaranteed by the Constitution of the Republic of Kosovo", Thaci said, adding that he would challenge the government's decision in the Constitutional Court. He also said that Kosovo police and other security authorities are not obliged to respect this "unconstitutional decision". Opposition parties, the PDK, the AKP and Nisma, also oppose the government's decision, calling it unconstitutional.
Last week, Prime Minister Albin Kurti opposed the President's proposal to declare a state of emergency. This led to a conflict between government coalition partners after Kurti ousted Interior Minister Agim Veliu for his support of the President when he said during a televised interview that a state of emergency was needed. Following Kurti's move, Veliu's party, the LDK, which is in a government coalition with Kurti's Vetevendosje, began the process of tabling a motion of censure against the Kurti administration. The LDK has already forwarded the motion to Parliament and according to the constitution, five days are needed to pass before voting on LDK's motion of censure.
On Monday, Parliament's Deputy Speaker from Vetevendosje, Arberie Nagavci, said there were no prerequisites for scheduling a session to vote on the motion of censure because of the coronavirus crisis. The Presidency of Parliament is due to convene on Tuesday to reach a decision./ibna