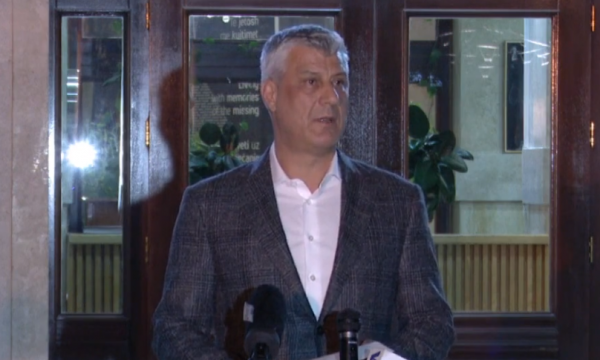 The President of Kosovo Hashim Thaçi has proposed a decree to the Kosovo Assembly to declare a state of emergency in Kosovo.
President Thaçi announced that, after meeting with the Security Council and after consulting with Kosovar Prime Minister Albin Kurti, he had proposed a decree to declare the country in a state of emergency.
"At the moment, during unprecedented times for Kosovo and the region, Kosovo is not an isolated country; it is under attack by a coronavirus pandemic that is a concern for the whole world, for all mankind, for Kosovo as well, following recent cases. Tonight, we are obliged to declare and propose compliance with the constitution; I will propose to the Assembly a decree to declare a state of emergency in Kosovo. The state of emergency in Kosovo involves the mobilization of the KSF throughout the country", Thaci said.
The decree will be forwarded to the Assembly tomorrow along with the measures envisaged, for which Thaci said he would immediately inform the public. In order for the decree to be adopted, two-thirds of the MPs must vote for it and it will be proposed as a means to tackle the coronavirus pandemic.
"We are witnessing a new situation, and as a state we have to take on our share of responsibilities; it would be irresponsible not to act".
"In respect to the country's constitution and laws, as well as to moral and human responsibility, today a meeting was convened with the National Security Council of Kosovo and the Prime Minister of Kosovo, Albin Kurti, at my request, while the Prime Minister called the KSK", the President said.
Thaci thanked the police, the KSF soldiers and everyone who has joined the fight against coronavirus. /ibna