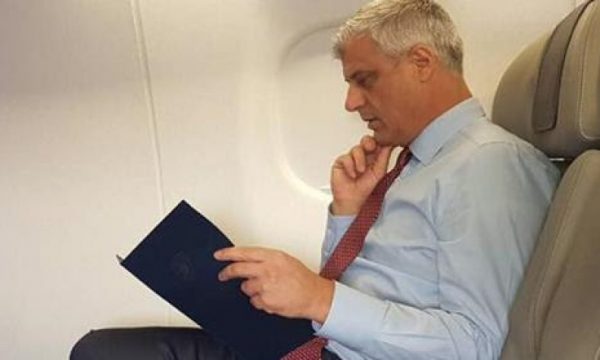 US Special Envoy for the Kosovo-Serbia Dialogue Richard Grenell announced that President Hashim Thaci had canceled his visit to Washington. The President's Office also confirmed that Thaci had canceled his visit to the White House, where he was expected to meet with the Serbian delegation on June 27 at the initiative of US mediator Grenell and the US leadership.
"The President of the Republic of Kosovo, Hashim Thaci, following the public announcement of the Special Court in The Hague on the initiation of the criminal prosecution of the President of Kosovo for war crimes, proceeded to cancel his official visit to the United States, in the context of the dialogue process between Kosovo and Serbia. The Presidential Office has informed the White House regarding the cancellation of the official visit to the USA", the President's Office notes in a statement.
In addition to announcing the cancellation of Thaci's visit, Grenell also confirmed that Kosovan Prime Minister Abdullah Hoti would be leading the talks on Saturday.
Earlier, the Special Prosecutor's Office (SPO) filed a ten-count indictment with the Kosovo Special Courts (KSC) for examination by the Court, accusing Kosovan President Hashim Thaci, Democratic Party (PDK) leader Kadri Veseli and other Kosovan officials for a series of crimes against humanity and war crimes, including murder, forced disappearances, persecution and torture.
The indictment alleges that Hashim Thaçi, Kadri Veseli and the other accused suspects are criminally liable for almost 100 murders. The crimes listed in the indictment include hundreds of infamous victims of Albanians, Serbs, Roma and other nationalities in Kosovo, as well as political opponents.
According to an SPO press release, the indictment is only one category and is the result of a lengthy investigation and reflects the SPO's determination that it can prove all charges beyond any reasonable doubt. A KSC investigator is currently examining the indictment to determine whether he will confirm the allegations.
"The Special Prosecutor considered it necessary to issue this public announcement of charges due to the repeated attempts by Hashim Thaci and Kadri Veseli to obstruct and undermine the work of the KS", the statement highlights. "Thaçi and Veseli are believed to have carried out a secret campaign to overturn the law on the creation of the Court or to obstruct the work of the Court in an effort to ensure that they do not face justice. By taking these steps, Mr. Thaçi and Mr. Veseli have put their personal interests before the victims of their crimes, the rule of law and all the people of Kosovo", according to a SPO statement. /ibna