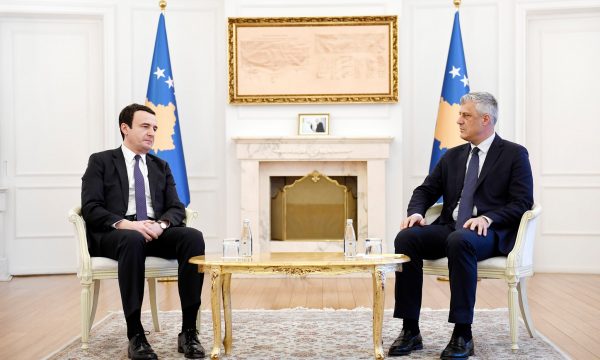 Kosovar President Hashim Thaci and Prime Minister Albin Kurti had a meeting today. The President of Kosovo welcomed Kurti, for the first time officially since February 3, 2020, when he formally took over the leadership of the country's new government.
Thaci posted on Twitter that he had a useful meeting with Prime Minister Kurti. "We touched on issues of state and national interest and agreed that co-ordination and co-operation between institutional and party leaders of Kosovo, is key for success, in particular on the issue of dialogue on normalization of relations with Serbia", Thaci tweeted out.
Prime Minister Albin Kurti addressed the media stating that the meeting with Thaci was important and useful to the country.
Kurti noted that they discussed with Thaci all issues related to Kosovo. "The meeting was open and we discussed a wide range of issues, including the Balkan Mini-Schengen, the ruling and main opposition parties, the Belgrade-Pristina dialogue, the tariffs, as well as Washington", Kurti stated.
The Prime Minister welcomed his first meeting with President Thaci and made it clear that coordination with the Office of the President was important. /ibna