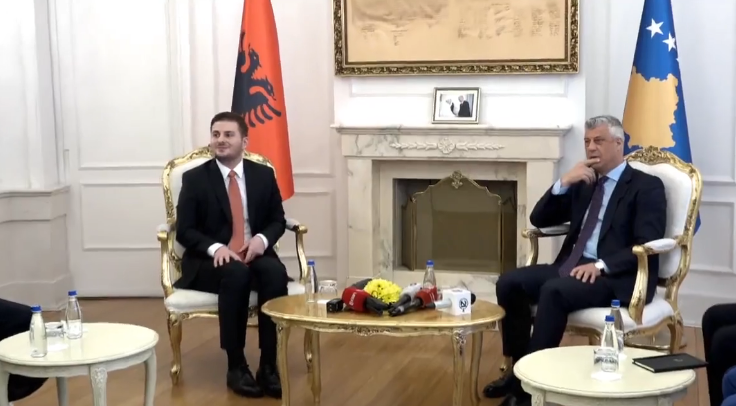 Albanian Deputy Minister of Europe and Foreign Affairs Gent Cakaj is paying an official visit to Kosovo, where he met with President Hashim Thaci.
During their meeting, the two men reaffirmed the extremely brotherly relations shared between Albania and Kosovo. They also stressed the importance of making the overall strategic partnership between Albania and Kosovo concrete as a model to encourage regional co-operation.
President Thaçi praised Cakaj's work so far as the head of Albanian diplomacy, stressing: "I think that Minister Cakaj has really given a new impetus, a new spirit; this spirit, this confirmation and consolidation of the state of Kosovo upon every international occasion in which the Republic of Albania participates".
He also expressed his gratitude to the Albanian Government and all of its institutions for the unique stance they have adopted towards the Republic of Kosovo.
On the other hand, Cakaj underlined in his speech that "we are involved in the issue of Kosovo's recognition in every way we can. We try to do our best to reinforce Kosovo's international standing, while in multilateral forums we have ensured that, where Kosovo is not present, we will be its voice and address all the issues that are on its agenda".
He also expressed his readiness to continue the work of the joint establishment of embassies and common spaces in the Consulates, as well as the continuation of diplomatic staff exchange plans and the creation of a coordinated political agenda between the countries. /ibna