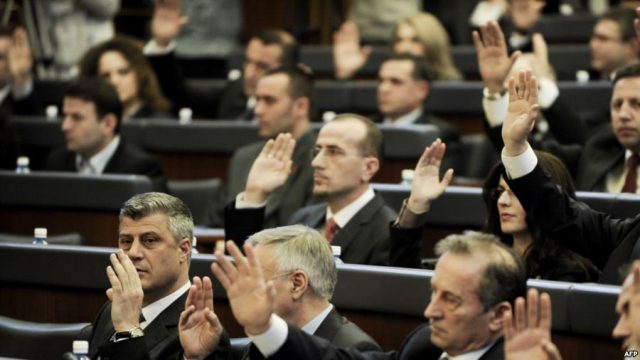 Pristina, 26 February 2016/Independent Balkan News Agency
By Elton Tota
Parliament of Kosovo will convene today in order to elect the new president, but this process is much likely to be accompanied with incidents as the opposition has called a protest in front of Parliament, while MPs will vote for the presidential nominee, leader of the Democratic Party of Kosovo, Hashim Thaci.
Based on the declarations of the leaders of opposition and majority, experts of political developments fear that the situation may escalate.
Analyst Shkelzen Dakaj told IBNA that Kosovo is in front of a very difficult test since the declaration of independence.
"There exists a risk for the situation to escalate. Both political camps will aim at realizing their objectives: government partners want to finalize the coalition agreement relating to the president's post, while the opposition wants to overthrow this government, which has violated the Constitution and has not yielded any results in the economic aspect", Dakaj says.
University professor, Fatos Rushiti told IBNA that the incidents and the degree of the violence generated by the opposition will very much depend on the majority.
"Incidents cannot be ruled out, but the parties in power will have more responsibility, because the opposition is clear in its position. The election of the president must follow its institutional path to be carried out successfuly. The majority must urge its supporters not to provoke the opposition with celebrations and other manifestations", Rushiti said.
He says that parties in power are in their own right to elect the president.
"For the leader of PDK himself, this is not a desirable moment, due to the fact that the country has been involved in protests and a deep political crisis. But we cannot say that Thaci, as a president, will not play a constructive role in the solution of the crisis", he says.
Meanwhile, analyst Halil Matoshi told IBNA that the only solution of this political and institutional crisis is to hold early elections.
"Kosovo must hold early parliamentary elections, but this must be agreed between all political parties. Early elections are the solution because they are the only democratic and legal instrument to solve the crisis that Kosovo has been going throw in the past two years", he says. /ibna/