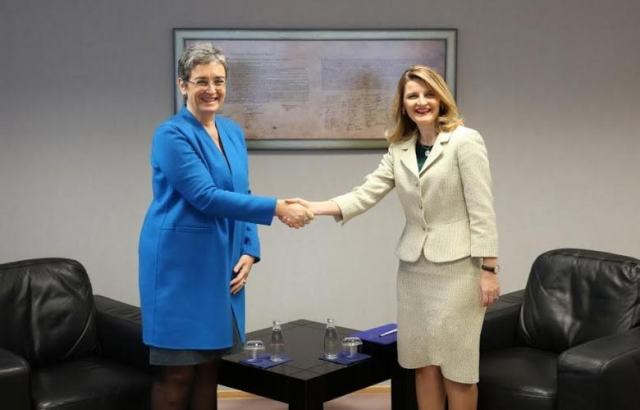 Kosovo's Minister of Justice, Dhurata Hoxha has met today with the vice president of the European Parliament and rapporteur on Kosovo, Ulrike Lunacek.
Lunacek's visit takes place after the publication of the Progress Report on Kosovo by the European Commission, a report which identifies Kosovo's positive steps and the criteria that must be delivered in order for the country to benefit from the visa liberalization regime.
According to minister Hoxha, the strengthening of the rule of law is the second criterion. She expressed the government's commitment for the realization of the reforms, consolidation of good governance and economic reforms, which all serve to the delivery of this criterion. According to her, all of this is achieved through coordination and monitoring by the EU.
"Good governance and the rule of law includes policies against corruption, reform in justice, system of accountability, transparency of the functioning of institutions and we will address all of these recommendations", minister Dhurata Hoxha said.
Lunacek stressed that the progress that has been achieved must be taken forward, because Kosovo's Euro integration path is irreversible. She also offered her full support in order for this process to be finalized as soon as possible. /balkaneu.com/