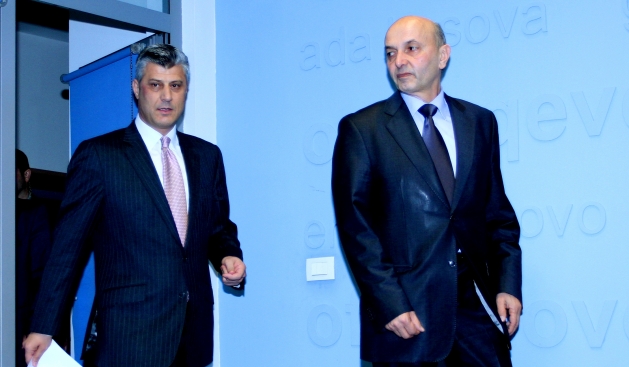 IBNA Special Report
Pristina, December 1, 2014/ Independent Balkan News Agency
By Elton Tota
Work teams from the Democratic Party of Kosovo and Democratic League of Kosovo have been engaged in finalizing the joint governing program. IBNA learns that the program will be voluminous and contains parts from the programs of both parties presented during the campaign.
The main elements of this program will be employment and economic development. Acting prime minister of Kosovo, Hashim Thaci has promised that the next government of the country comprised of PDK and LDK, will have credible people who will develop the state of Kosovo.
"We will offer necessary space to the opposition. We will work for a developed country, for the creation of jobs, for more welfare and we will intensify our efforts for the process of the liberalization of visas and integration in the NATO and EU", said Thaci.
In spite of the speculation on the media, so far there hasn't been any official confirmation of an agreement for the division of government posts.
Nevertheless, leader of LDK, Isa Mustafa and that of PDK, Hashim Thaci has warned that at the beginning of the week, an agreement will be signed in order to determine the responsibilities of each party.
Meanwhile, Kosovar analysts are skeptic about the duration of the coalition between PDK and LDK. According to them, this coalition is artificial and full of contradictions.
Law professor, Riza Smaka says that this coalition is not stable bearing in mind the constant declarations of the leader of LDK that he will not make a coalition with PDK.
"He has betrayed voters and voters cannot be happy. I believe that the structures of the party are not happy. I don't expect this coalition to last more than two years", says Smaka.
According to analysts, PDK and LDK coalition will find it difficult to exist because there's no mutual trust between the two parties and also due to the fact that there are many social, economic and political problems.
Analyst Artan Muhaxhiri says that based on the experience from 2007 until 2010, it has been seen that such coalition may have big problems.
"There's a lack of mutual trust and after a while, there will be divisions between these two parties. Instead of one government, we will have two governments. This can even happen this time, but I think that this will happen in two or three years", says Muhaxhiri.
PDK and LDK have governed together from 2007 until 2010, when Fatmir Sejdiu was leader of LDK. The coalition was dissolved before the end of the government term.
One of the most critical voices of that time for the coalition with PDK was the current leader of LDK, Isa Mustafa. /ibna/