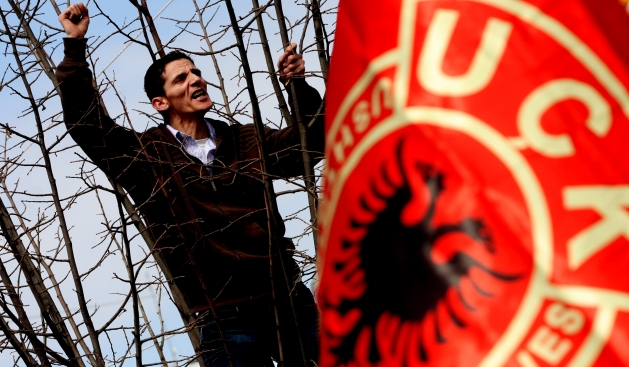 Pristina, February 24, 2014/Independent Balkan News Agency
By Elton Tota
Former soldiers of Kosovo's Liberation Army will face this year a special International Court where they must defend for the alleged crimes committed during the war.
Thus, KLA's war is the only war in the former Yugoslavia which will be dealt with by another international mechanism, besides Tribunal of Hague.
For this, international community is looking into the legal possibility of founding an International Tribunal for War Crimes.
IBNA learned that there are two options for the foundation of this court: one of them through the Parliament of Kosovo and the other through a Resolution in the UN Security Council.
The draft status of the foundation of this Tribunal says that it will be founded to try people responsible of serious crimes committed from 1998 to 2000 and which relate to Report 12462 of the Parliamentary Assembly of the Council of Europe, dating January 7, 2011 drafted by Senator Dick Marty.
This institution will not be related to the judicial system of Kosovo and will be situated outside Kosovo, in order to guarantee independence, quick and fair trials, tackle security issues and to function in accordance to the provisions of this Statute. It will continue the work carried out by EULEX Special Investigative Task Force.
This idea has been strongly objected by representatives of the government of Kosovo, war veteran associations and experts of judicial issues.
Professor of Criminal Law, Ismet Salihu says that with the eventual creation of an International Tribunal, Kosovo would prove the failure of its institutions of justice.
"The justice system, prosecutors and courts are resulting in a failure, but also members of EULEX, because the judicial system in Kosovo is also made of EULEX members, which are an international staff", said professor Ismet Salihu.
Constitutional expert, Riza Smaka says that this is an irritating idea for Kosovo. He says that the foundation of such tribunal would damage the image of the country.
"Without any doubt, this idea originates from Serbia, which penetrates in different channels with different techniques. Our government must show consistency in objecting such thing", suggests Smaka.
Meanwhile, Organization of the War Veterans of KLA demand from the government not accept the creation of a court for war crimes which is not part of the judicial system of Kosovo.
"Every Tribunal which will operate outside the judicial system of Kosovo will be unacceptable and denigrating for the state of Kosovo", says the Organization of War Veterans.
Veterans say that they will strongly object the creation of a new tribunal and that they will not be responsible for their reactions. This organization had also demanded EULEX's executive mandate to be lifted as far as the war of KLA is concerned.
On the other hand, minister of Justice of Kosovo, Hajredin Kuci says that there's no need for such Tribunal, because Kosovo has its own courts.
"Kosovo has sufficient capacities to deliberate and try every case. When I say this, I refer to domestic and EULEX judges. Kosovo also has an international mission, international judges, international prosecutors and I don't see any reason to think differently", said Kuci.
The idea for an International Tribunal for Kosovo was initially launched as a result of the investigations started by the Council of Europe based on the suspicions of the Swiss Dick Marty over the traffic of Serb human organs from members of the former Kosovo Liberation Army. /ibna/