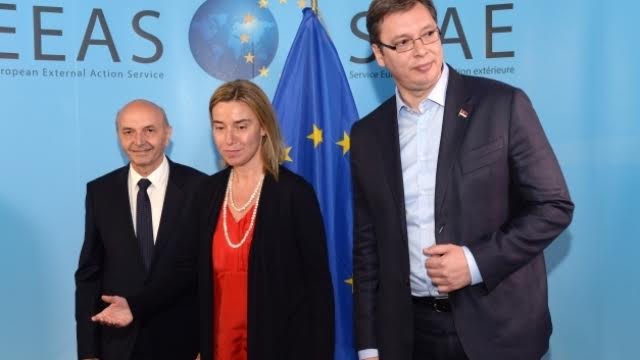 Pristina, 14 October 2015/Independent Balkan News Agency
By Elton Tota
Kosovo and Serbia have expressed their readiness to continue the talks for the normalization of relations between the two countries.
The sides have pledged that they will remain committed to apply all agreements reached so far in the dialogue brokered by the European Union.
This was said in a meeting held on Tuesday evening at the seat of the European Commission held during an "informal dinner" hosted by the EU head of diplomacy, Federica Mogherini.
During this meeting, Mogherini declared that declared that she has received assurances from both sides for the implementation of the agreements, especially the one that was reached on August 25 on the Association of Serb Communes.
"On Tuesday evening, both prime ministers, Isa Mustafa and Aleksandar Vucic had a talk on the situation surrounding the talks, especially the implementation of the August 25 agreement on the Association. Both sides reiterated their commitment for the implementation of all past agreements", Mogherini declared.
Deputy Prime Minister of Kosovo, Hashim Thaci, said after the meeting that this meeting with the Serb side was not an easy one.
"Serbia also brought up topics of the past, but Belgrade was the one who carried out genocide and in this aspect, we cannot offer an immunity on this issue", Thaci declared.
Thaci said that Kosovo's accession in international organizations has been an obstacle for Serbia.
"There's great frustration amid Serb representatives after the great support that Kosovo has received for accession in the UNESCO. But, we are convinced that Kosovo will become a UNESCO member and a member of other international organizations, where it will strengthen the position of the state in the international arena", he said.
Meanwhile, from the Serbian delegation, it was the minister of Foreign Affairs, Ivica Dacic who gave journalists very few details on what happened in this meeting.
"I cannot give many details. The meeting was a difficult one. We have reiterated our readiness to implement the agreements that have been reached", Dacic said.
The Serb diplomat also said that "Serbia has shown a constructive approach, but I'm under the impression that this is not being understood by the European Union".
EU diplomats have reiterated that they expect from Pristina and Belgrade to implement all the agreements that have reached during the talks and that progress in this aspect will decide the progress of European integration.
In Kosovo's case, this means the signature of the Stabilization and Association Agreement, which is expected to take place soon, while in the case of Serbia, the opening of talks for the first chapters in the process of accession in the EU. /ibna/