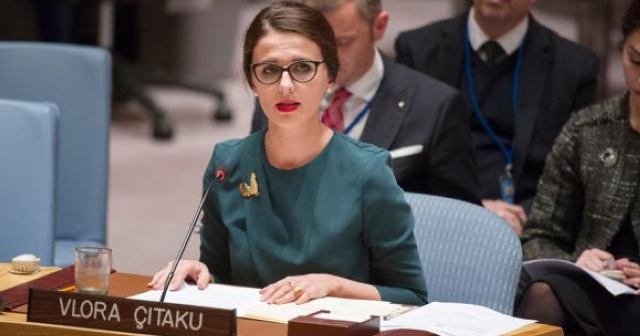 Pristina, 17 May 2016/ Independent Balkan News Agency
By Elton Tota
The UN Security Council has discussed the latest developments in Kosovo.
In this meeting, representatives of Pristina and Belgrade presented different opinions on the situation in Kosovo, declaring that the relations between the two countries continue to be aggravated.
Kosovo's ambassador to New York, Vlora Citaku focused on the latest diplomatic achievements of Kosovo, including the UEFA and FIFA accession and the proposal for the liberalization of visas, by saying that they offer new opportunities for the citizens of Kosovo.
Citaku criticized Serbia's approach and the obstacles that it is causing to Kosovo in its accession in international organizations. Citaku said that Kosovo's integration path in international institutions and its European perspective are irreversible.
Serbia's Foreign Minister, Ivica Dacic focused on the situation with the Serbs and other non Albanian minorities in Kosovo, saying that security conditions are worrying and their rights are being violated.
One of the points on which minister Dacic and ambassador Citaku had different opinions was the issue of extremism.
The Serb diplomat said that the security situation in Kosovo is aggravated even more by growing extremism and radicalism and that the official figures are much smaller than the actual ones.
Meanwhile, ambassador Citaku focused on the efforts of the authorities of Kosovo to fight this phenomenon and criticized Serbia of trying to make Pristina look as if it is not living up to its European aspirations.
Meanwhile, the US representative, the American vice ambassador in the UN, David Pressman called on those UN countries which haven't recognized Kosovo, to do so.
He also demanded the reduction of UNMIK presence in Kosovo. /balkaneu.com/