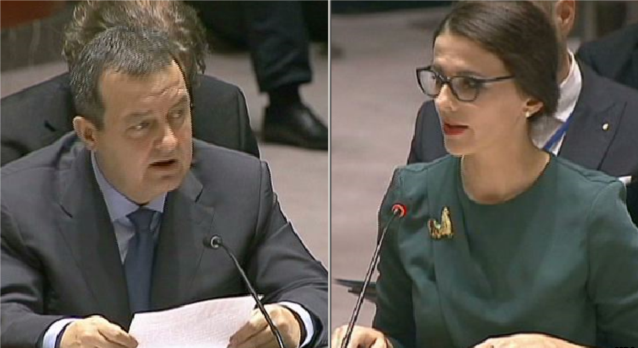 Pristina, 20 November 2015/Independent Balkan News Agency
By Elton Tota
On Thursday, the UN Security Council has discussed the quarterly report of the UN Secretary General Ban-Ki Moon on the situation in Kosovo.
During these discussions, representatives of Kosovo and Serbia have exchanged strong accusations about the issue of Kosovo's application to become a member of UNESCO.
Kosovo's ambassador to the USA, Vlora Citaku accused Serbia about the campaign that it held against Kosovo's accession in the UNESCO, considering it "a brutal, dishonest and racist" campaign.
Citaku said that Serbia used a language of hate, which was unprecedented and unacceptable.
Serb Foreign Minister rejected these accusations, considering the ambassador's comments aggressive. He said that Kosovo officials must be careful in the language that they use. Mr. Dacic also considered the suspension that Constitutional Court in Pristina made to the agreement for the Association of Serb Communes.
Dacic said that Serbia wants to dialogue with Pristina not because Kosovo is independent, but to solve practical issues between the sides.
The ambassador of Kosovo replied that Kosovo is a free and independent country and that this will not change. "The sooner you realize this, the better it will be for Serbia", she said.
As far Kosovo's efforts to become a member of UNESCO are concerned, Citaku said that next time, Kosovo will manage to become a member of this organization.
Representatives of other member countries also spoke during this session. The US representative said that the situation in the parliament of Kosovo is concerning and called for violence to stop.
"Kosovo has adopted laws which help the country to be a strong country. The use of teargas in parliament must come to a halt. Kosovo must not allow criminal acts within institutions. Without any doubt, Kosovo has made an important step in the international justice, starting with the approval of the Special Tribunal. USA backs Kosovo's efforts in its campaign for UNESCO accession", the US ambassador said. /ibna/