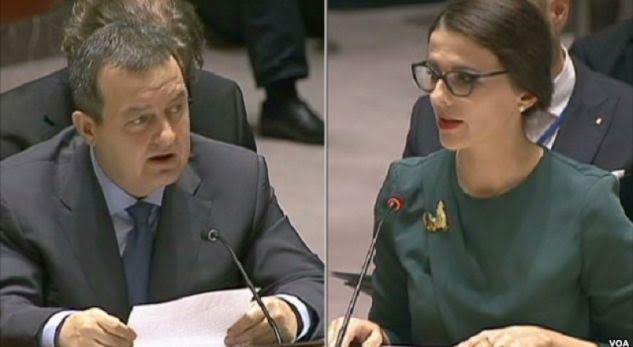 Pristina, 1 March 2016/ Independent Balkan News Agency
By Elton Tota
An intense debate was held between the Kosovo ambassador to the United States, Vlora Citaku and Serbia's Foreign Minister, Ivica Dacic at the UN Security Council.
Kosovo's ambassador to the US, Vlora Citaku spoke about the war crimes that Serbia has committed in Kosovo, stressing the raped women for which she said that nobody has assumed responsibility up until today and for which she said that her aim is to seek justice.
"Thousands of victims have been denied justice. Two thousand survivors of sexual violence still preserve physical and psychological wounds of this form of torture. Many have been raped in front of their families when Serb forces came to displace us as part of their campaign of ethnic cleansing.
I will seek justice on behalf of all of them. We must see the perpetrators behind bars and we need to do more in a collective and global way, in order for victims of sexual violence during the war, to feel supported", Citaku declared.
During her speech at the UN Security Council, ambassador Citaku has once again reiterated to the Serb Foreign Minister, Ivica Dacic that Kosovo is independent and that this will not be changed.
She said that all citizens must be clear of the fact that dialogue with Serbia, which is taking place in Brussels, is not being done to bring back Serbia to Kosovo, but to create neighborly relations between the two countries.
"Dialogue doesn't aim at bringing back Serbia to Kosovo. Kosovo is independent and this will not change. What must change though is Serbia's stance toward us.  Dialogue aims at making sure that we treat each other with dignity, as two neighboring countries. Kosovo wants this dialogue", Citaku said.
In his speech, Dacic referred to Kosovo as "Kosovo and Metohia" and to Citaku as a representative "of the temporary institutions of Kosovo and Metohia".
He spoke of the Serbs of Kosovo, by saying that the Association of Serb Communes is an institution which aims at insuring the fundamental rights of the Serbs of Kosovo.
Dacic said that the sooner the association is established, the sooner are the agreements reached between the two sides in Brussels implemented.
Dacic made a strong retort to ambassador Citaku when the latter said that Kosovo is an independent country.
"Kosovo doesn't belong to Albanians. It is neither yours, nor mine. It belongs to the citizens that live there, Serbs and Albanians. You have a country of Albanians which is Albania", Dacic said.
Speaking about the agreement on the Association of Communes, Dacic said that Kosovo cannot sign agreements and then send them to the Constitutional Court.
He said that Kosovo is not independent, as according to him, it would not sign SAA as a territory, but as a country. He also thanked all those countries who haven't recognized Kosovo. /ibna/