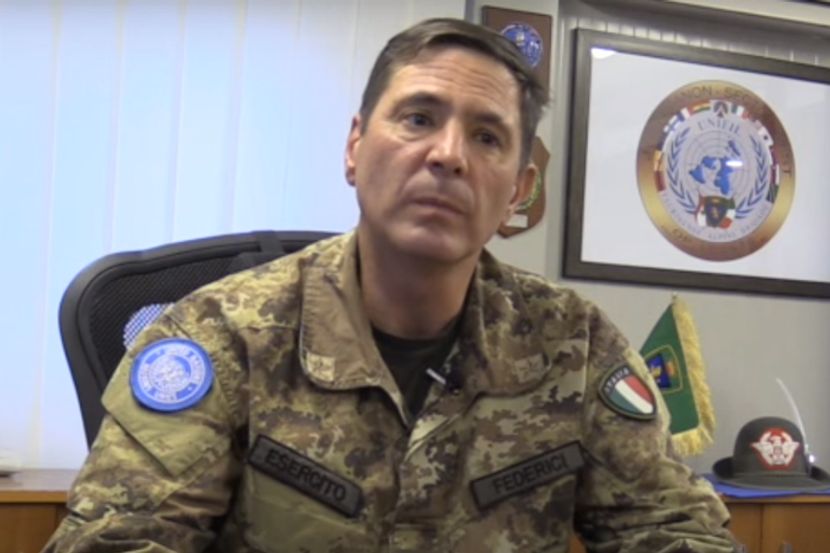 KFOR Commander General Franco Federici believes organized crime, illegal economic activities and ethnic hatred rhetoric are the main threats to security in Kosovo, in an interview with Koha Ditore.
Federici points out that at the moment there is no sign that the security situation will deteriorate, but also that he sees the situation in northern Kosovo and Metohija as particularly difficult for KFOR.
"I believe that the municipalities must carefully resolve any issue in northern Kosovo. KFOR has established a very good cooperation with North and South Mitrovica", Federici told Koha Ditore.
The KFOR commander also points out regular contacts with the Serbian Army, which, he said, contribute to creating an atmosphere of good co-operation in the region.
Cooperation with Kosovo security forces continues under the old decree, although the Kosovo Assembly approved the law to turn the KSF into an army more than two years ago, Franco Federici said.
"Cooperation with the KSF includes civilian response and humanitarian assistance to deal with natural disasters and other emergencies. KFOR and KSF are cooperating in explosives removal activities, which help maintain a safe environment and improve the quality of life of all communities in Kosovo. At present, the KFOR commander has to approve the entry and operation of the KSF in northern Kosovo. This is in line with the previous agreement with the Kosovo institutions, and NATO expects its implementation to continue", Federici explained.
Federici also highlighted the challenges KFOR faced during 2020.
"In general, the escalation of the global pandemic has been and continues to be the biggest challenge for all of us. KFOR has taken all necessary precautions to protect its personnel, because protection is essential. Our mission has donated personal protective equipment to hospitals in Pristina and Gračanica, delivered more than 50 food and clothing donations to 14 municipalities in Kosovo, in coordination with local humanitarian organizations", the KFOR Commander said.
He added that KFOR continues to carry out day-to-day activities aimed at ensuring a safe environment and free movement for the benefit of all communities in Kosovo, in accordance with United Nations Security Council Resolution 1244 of 1999.
Regarding the actions of the Hague Special Court for the crimes of the Kosovo Liberation Army (KLA) and the trial of Hashim Thaci and other KLA officials, Federici said that "the establishment of the Special Court was an autonomous decision of the institutions Kosovo and does not fall under the mandate of KFOR. Therefore, KFOR does not conduct or support any war crimes investigations. In any case, KFOR is ready to intervene in accordance with the current decree, in case of protests or unrest, after the accusations have been filed and, as mentioned above, with full respect for the meaning of the three agreements"./ibna