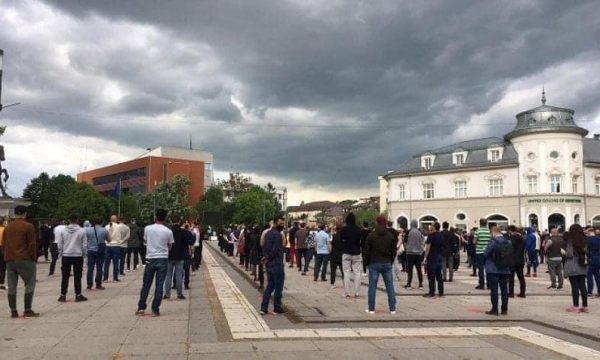 The Prosecutor's Office is launching an investigation one day after the protest that took place on Tuesday night in Pristina Square, by the Self-Determination Movement (Vetëvendosje).
The Democratic Party of Kosovo (PDK) had reacted strongly to the announcements of the Self-Determination Movement that it would organize protest rallies during the period of the pandemic.
A statement from the PDK said it was unacceptable to tolerate such a massive public activity at a time when hundreds of thousands of Kosovo citizens could not move around freely, could not go to work, could not gather for iftar with their relatives or perform other religious ceremonies, as well as freely engage in collective family and social activities.
"The PDK also believes that this political organization of Vetëvendosje to be the next attempt to put pressure on the Constitutional Court on the sensitive issue at hand.
It is a vicious act against the rule of law and the constitutional order in this country and with intentions for a scenario of violence, which comes a few days after the blackmail letter sent by the caretaker Prime Minister Kurti along with his other threats.
The choice of protest by a political group can in no way replace the rule of law in our country, nor can it hinder the functioning of our democratic institutions", PDK says in its statement.
The party, led by Kadri Veseli, said such an event would endanger not only those present but also their other social contacts.
"This call for protest also reveals the hypocrisy of the Self-Determination Movement, which on the one hand demands maintaining social distancing and staying at home and on the other hand, in this exceptional pandemic state, organizes a demonstration that would seriously endanger public health".
The Democratic Party of Kosovo believes that holding a demonstration at this time will not only endanger potential attendees who violate the rules of health care to protest, but also threaten their family circle and other social contacts, the party says in its statement.
Concluding the announcement, the Democratic Party of Kosovo notes that it remains committed to strengthening the rule of law and respect for fundamental human rights, including the right to assembly".
The Vetëvendosje Self-Determination Movement staged a protest rally in Pristina Square on Tuesday in a bid to pressure the Constitutional Court on a favorable decision for Kurti regarding President Hashim Thaci's call for a formation of a new government.
The Self-Determination Movement will not stop there, as in the coming days, as the Movement's executives announced, they will hold several more rallies, this time with 1,500 people in the square, despite the pandemic and the fact that these rallies jeopardize public health./ibna