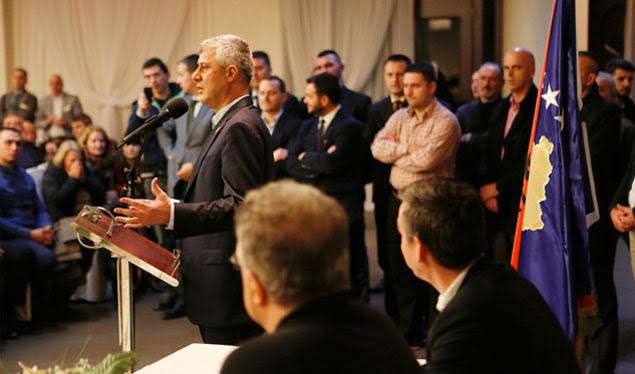 Pristina, 22 February 2016/Independent Balkan News Agency
By Elton Tota
LDK and PDK in Pristina are making the final preparations of the parliamentary session which will see the election of the new president.
Prime Minister Isa Mustafa and his deputy, Hashim Thaci, who is a presidential candidate, say that the election of the head of state is an easy task.
"Parliament will call a session for the election of the president. LDK is an institutional and state formation party. We will make efforts to respect every letter of the Constitution for the election of the president", Mustafa said.
Vice chairman of PDK, Enver Hoxhaj says that the date for the election of Thaci as president is not yet known, but he hasn't denied that such thing can happen this week.
"The coalition partners, PDK and LDK and the minorities are clear about the fact that the president can be elected within a short period of time. This means that the election of the president is imminent, but I cannot say if it is going to happen this week or next week", Hoxhaj declared.
In order to elect the president, there must be a quorum in parliament of at least 80 MPs. PDK-LDK coalition along with the Serb List currently have 79 MPs, which cannot secure Thaci the necessary quorum to be elected president.
What's worse is that some of the coalition MPs can even vote against Thaci's election or boycott the session, where he will attempt to be elected as head of the country.
LDK's MP, Vjosa Osmani has declared her boycott, while she hasn't concealed her ambition of attracting other MPs
Alma Lama, who is also an MP of LDK, has declared her vote against Thaci and that she will not participate in the president's voting.
Thaci's election in this high post is being contested by analysts and opposition parties.
Adonis Tahiri of Self Determination says that the opposition is mobilized to prevent the election of the new president.
"We will act in this session like we have acted in last session. A president elected in conditions of an institutional crisis cannot represent any institutions and even less, unity which he is supposed to represent", he says.
According to Tahiri, Thaci cannot be the president of Kosovo, as, like he said, PDK leader is one of the underworld bosses in Kosovo.
Analyst Vilhard Shala told IBNA that  the presidential nominee doesn't represent the unity of the people.
"The president must represent the unity of the people. PDK leader Hashim Thaci cannot represent this unity because he was nominated out of a political deal. Then, around 100 citizens have expressed their rejection for him through the opposition's protests", Shala said.
According to Shala, Constitution must be changed in order for the president to be elected by the people. /ibna/