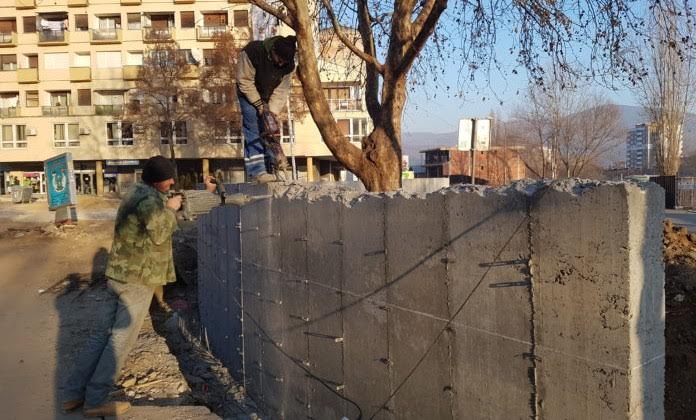 The recent developments in the northern part of Kosovo and Serbia's implications in that part, have sparked reactions and debates in Pristina.
Authorities and representatives of the opposition say that the illegal wall which is being seen as a dividing wall, must be demolished in line with the laws in power.
The head of Northern Mitrovica, Agim Bahtiri hopes that this barrier built by Serb parallel structures will be destroyed in the month of February.
"For this issue, I am talking with officials of the European Union, but also local authorities of Northern Mitrovica. I believe that with the help of the EU, this wall will be destroyed without any incident or deterioration of the situation in this part of Kosovo", Bahtiri declared.
According to him, the demolition of the wall is in the best interest of the citizens of Kosovo, regardless of their ethnicity.
"I have asked the mayor of Northern Mitrovica, Goran Rakic to do such thing, because it is in their best interest, but also in the general interest to allow the free movement of people", he said.
The speaker of parliament, Kadri Veseli  has also said that the wall will be demolished, not offering any dates, but just saying that "it is not known if it will be demolished on 1 or 17 February, but what is known is the fact that it will be demolished".
But, local authorities in Northern Mitrovica and official authorities in Belgrade have rejected the demolition of the wall.
On the other hand, minister for Dialogue in the government of Kosovo, Edita Tahiri has not offered any dates for the demolition of this wall.
She said that the demolition of the wall is a prerogative of the highest institutions of Kosovo, which are working intensively for this, in order to secure the free movement of the people and implement the Brussels' agreement for the revitalization of the bridge and main road of Northern Mitrovica.
Opposition parties have also demanded from the government of Kosovo to take prompt action for the demolition of the wall in Mitrovica, built by local government in Northern Mitrovica and according to Pristina, it was built upon Belgrade's requests.
The construction of the wall near Iber river took place in the month of December by local authorities in Northern Mitrovica, but it was contested by authorities of Kosovo. Parliament of Kosovo has also passed a resolution stating that the wall must be demolished this month. /balkaneu.com/