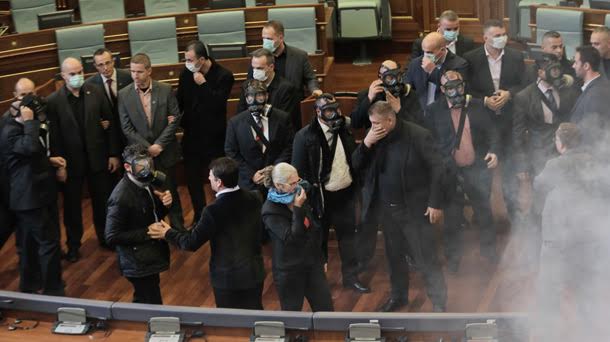 Pristina, 1 December 2015/Independent Balkan News Agency
By Elton Tota
With the suspension of opposition MPs from parliament, political crisis in Kosovo has deepened even further.
Experts of political developments in Pristina consider early parliamentary elections as the only solution to the crisis.
Prominent academic from Kosovo, Rexhep Qosja says that all the negative phenomena happening today in Kosovo have been caused by today's leaders.
According to him, fresh general elections could solve this crisis.
"All of these bad things will find a solution on the day when corrupt officials in Kosovo resign and this will happen once the government of Kosovo resigns. The resignation of the government will mark the start of the solution for the political and institutional crisis. Without this resignation, the crisis can become even deeper", Qosja says.
Qosja also addresses criticism against police of Kosovo, which arrested several opposition MPs.
"Kosovo police manifested a hostile behavior against protesters. They beat and wounded many protesters. They even beat the father of two martyrs who fell for the freedom of Kosovo! The laid on the ground the former Ombudsman! In all of these cases, Kosovo police behaved like Milosevic's police", academic Rexhep Qosja said.
Analyst Dugagjin Gorani told IBNA that the elections are an option for the solution of the political crisis.
He says that the agreements on the Special Tribunal, Association of Serb Communes and demarcation cannot be defended through violence and aggression.
"Such agreements cannot be defended by insisting on not changing the government. This would be a colonialist approach. According to this logic, Kosovo doesn't need to change its government for the next 50 years. On the contrary, a way must be found in order for international agreements to be respected and for governments to be changed. This is what contemporary democracy requires", he said.
The same opinion is also shared by executive director of the Institute for Advanced Studies-GAP, Agron Demi.
"The suspension of the opposition is against the Constitution. The immunity of an MP is not something personal and before he's arrested, the immunity must be lifted by parliament. Although the new elections will generate a new blockade, for the moment, this is the only solution", Demi says. /ibna/