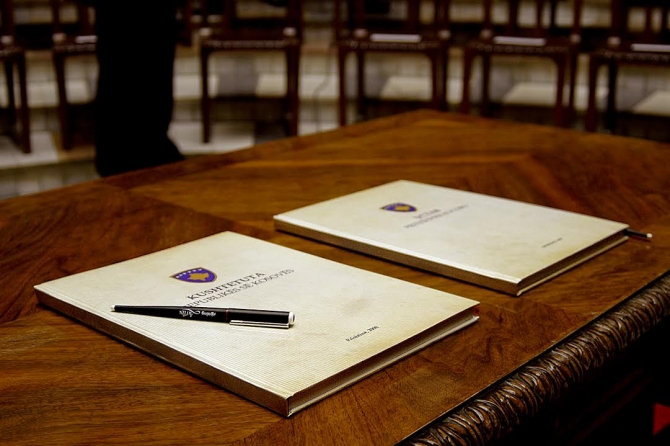 Pristina, June 13, 2014/Independent Balkan News Agency
By Elton Tota
After the early parliamentary elections in Kosovo, a heated debate is taking place on the Constitution and its numerous interpretations.
Constitutionalists told IBNA that the Constitution of Kosovo is one of the most democratic constitutions as far as human rights and rights of minorities are concerned, but its negative side relates to the numerous provisions which have ambiguities, which now and in the future, may produce political and constitutional crisis in Kosovo.
Law professor, Avni Mazreku told IBNA that Constitution of Kosovo has a large number of provisions with ambiguities and in need of a dynamic interpretation in order not to produce political crisis in the country.
As far as the latest agreement between opposition political parties are concerned,  Mazreku says that article 95 of the Constitution for the creation of the government is very clear.
According to him, article 95 is well clear, as it says that the prime minister nominee must come from the political subject or coalition that guarantees the president of the country that he or it has the necessary numbers, namely 61 seats, to form the government.
Professor of Constitutional Law, Berat Aqifi says that Constitution of Kosovo has ambiguities in many occasions.
According to him, in the near future, the Constitution must be amended and fill the vacuums that produce political crises in the country.
"The recent case of the political agreement between opposition parties pointed out a number of unclear provisions of the Constitution of Kosovo. Given that the majority of Constitutions in the world have clear provisions about the creation of the government after the elections, ours seems to be unclear", says he.
Even before the official results of the June 8 parliamentary elections are certified, Kosovo has now entered a deep political crisis.
According to opinion makers, this crisis can be even deeper, given that it's becoming a constitutional crisis.
Analyst from the Balkan Group for Policies, Naim Reshiti says that the crisis that Kosovo is entering is very serious, because it doesn't only have the character of a political crisis, but also the character of a constitutional one. The claim of the three non winning parties of the elections to form the government, by leaving the winning party in opposition, according to Rashiti presents a new case which will seek a constitutional interpretation. /ibna/