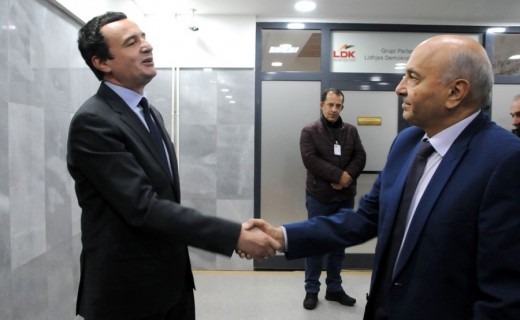 The Vetevendosje and Democratic League of Kosovo (LDK) signed Sunday an agreement for the formation of a new government, four months after early elections were held in Kosovo.
Leaders Albin Kurti of Vetevendosje and Isa Mustafa of the LDK confirmed the deal was signed during a joint press conference on Sunday, held at the Parliament's building. The Parliament will convene on Monday to vote a new cabinet headed by Kurti, whose party won October's elections. "I met today with LDK president Isa Mustafa, and we agreed to vote for new government. We have already signed the deal, we agreed on everything, including the sharing of responsibilities in the new government", Kurti said.
Mustafa said the agreement signed between the two biggest parties is in the interest of Kosovo and necessary changes are expected to take place. "We have reached a deal. I believe it is a good deal in the interest of changes expected to take place in our country", Mustafa told the media and expressed his believe that the new Government will meet the expectations of the citizens.
The Agreement was reached 119 days after early elections took place when the Vetevendosje won the elections but lacked a parliamentary majority. On 26 December the Parliament held a constitutive session and voted Vetevendosje's vice chairman Glauk Konjufca as Parliamentary Speaker.
The move paved the way for the formation of the new Government. The two leaders Kurti and Mustafa held a series of meetings due to disagreements on sharing powers in the new government. With the new deal, Konjufca is expected to step down as Speaker, replaced by an LDK candidate instead.
Kurti confirmed on Sunday that Konjufca will join his Cabinet. He also confirmed the new Government will have 15 ministries and not 12, as the two parties had agreed earlier. The names of the Cabinet are yet to be confirmed.
Mustafa confirmed that he agreed with Kurti that negotiations on proposing a new president, after the mandate of current president expires in 2021, be discussed at a later time./ibna