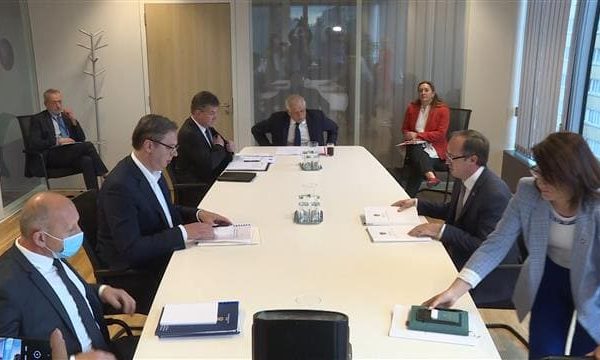 Kosovar Prime Minister Avdullah Hoti reiterated in a Facebook post that there would be no technical dialogue between Kosovo and Serbia.
"There will be a dialogue only for final agreements for mutual recognition and normalization of relations between the two countries", Hoti wrote.
Hoti's statement came after Serbian President Aleksandar Vucic, following his meeting with Hoti in Brussels, said that talks with Kosovo Prime Minister Avdullah Hoti were not easy.
"Talks on the missing and displaced will continue next Wednesday at a technical level", Vucic announced.
"A few days ago, the prime minister stressed that the Hoti government has removed from the debate for a month the issue of Kosovo's territorial integrity, which no one mentions anymore".
"This will be an agreement that will give Kosovo what it deserves; to be equal and integrated into the great Euro-Atlantic family. The people of Kosovo need that", Hoti wrote.
The resumption of the technical dialogue process in Brussels was met with skepticism on the part of the opposition, but also by the Presidency and Hashim Thaci.
Former Kosovo-Serbia technical dialogue chief negotiator and former dialogue minister Edita Tahiri notes the launch of any new technical dialogue could delay the process of reaching a final agreement.
"I am afraid that what was announced as a technical dialogue for this week could establish this process for the next ten years, and this approach does not bring lasting peace and stability either in the region or in relations between the two countries", Tahiri commented on Free Europe radio.
"Now, we have to work for the final agreement and within the agreement we can deal with issues that are technically called, but which are very important, such as war reparations, succession, division of property and more. But if the technicalities return and a final agreement is reached, that risks leaving the process open indefinitely", Tahiri said.
The Head of the Office of the President and Advisor to President Hashim Thaci, Bekim Çollaku, said that the aim of the dialogue with Serbia should be the final agreement with mutual recognition and not the repetition of a technical dialogue led by the European Union.
As he argues, the technical dialogue is designed to justify opening more chapters for Serbia's EU membership, while leaving Kosovo isolated and with its status quo unchanged.
Political process expert Donika Emini describes the possibility of a resumption of the technical dialogue as the wrong strategy by the European Union.
"To start a technical process, hoping that it will bring us something political, even with such elitist policies, I do not think is the strategy to be followed. We do not need to start with a technical process where we could lose maybe another ten years talking about things that are not important, that is, things that bring nothing to end this bilateral conflict between Kosovo and Serbia", Emini told Radio Free Europe. /ibna