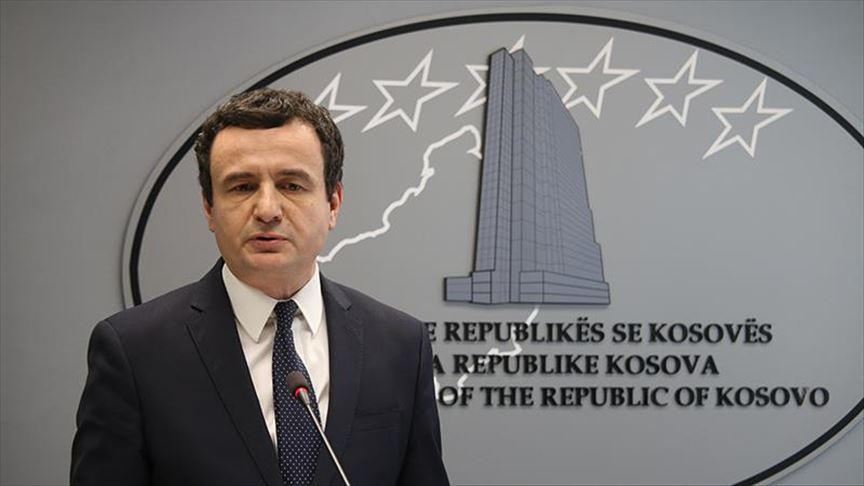 Strong reactions from the opposition
EU positive, US negative
The new Kosovo Prime Minister Albin Kurti announced the lifting of the import tariffs imposed by the Ramush Haradinaj government in November 2018 on raw materials from Serbia and Bosnia and Herzegovina.
According to the Kosovo Prime Minister, the import tariff will be lifted on March 15 for 90 days. If on the meantime Kosovo finds that the Serbian government is continuing its diplomatic effort for the withdrawal of the country's international recognition, the tariffs will resume on June 15, 2020.
"We call on Serbia to support the cessation of the campaign to lift the recognition of Kosovo's independence. I expect the Serbian government to respond to this by stopping the campaign and removing other non-tariff barriers", Kurti said.
According to press reports, Kurti added that if Serbia responds favorably to the invitation, then as of April 1, the tariffs will be completely abolished over a 90-day period.
"I listen carefully to the demands of international actors, I am very patient and very cooperative, but in the end, I am the Prime Minister of Kosovo, I am called upon to protect the interests of the people of Kosovo. My unlimited faith is linked to hundreds of thousands of voters, and above all, I always respond to them in coordination with the international community", Kurti said.
Kurti again called for the visa liberalization by the European Union before the EU-Western Balkans summit in May in Zagreb.
Reactions from the Opposition
Former Kosovo Prime Minister Ramush Haradinaj said Thursday night that Albin Kurti surrendered over to Serbia with his decision to suspend import tariffs on raw materials from BiH and Serbia.
"Tonight, the fraudster Albin surrendered to Serbia. This is the beginning of the return of Serbia and Russia to Kosovo", Haradinaj wrote on Facebook.
Democratic Party leader Kadri Veshelji said Kurti is ignorant, weak and deceitful.
Positive reaction from the EU – a first step
The European Union welcomes Kosovo Prime Minister Albin Kurti's decision to lift tariffs on imports of raw materials from Serbia and Bosnia and Herzegovina as a first step towards the total lifting of customs duties on Serbian goods.
European Commission spokesman Peter Stano said Brussels is looking forward to more details, but welcomes the decision as a first step that could have a positive impact on restoring regional trade and provide an opportunity for resumption of talks between Belgrade and Pristina, facilitated by the European Union.
"It has been a long time. Trust must be urgently restored. Serbia and Kosovo must create a conducive environment for resuming talks for the benefit of both", says a statement, stating that EU foreign policy chief Josep Borrell is ready to play the role of the facilitator in the talks.
Grenell: We don't support Kurti's half measures
"We do not support the half measures of Prime Minister Kurti". "Our position is quite clear: the tariffs must be completely dropped. Prime Minister Albin Kurti is making a serious mistake", US ambassador and mediator for the Belgrade-Pristina dialogue Richard Grenell wrote on twitter./ibna