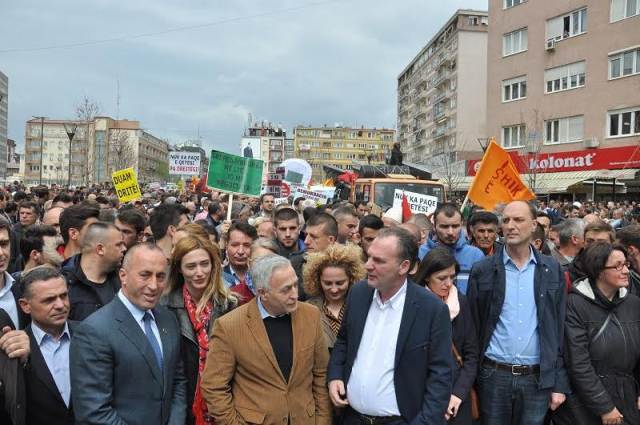 Pristina, 10 September 2015/Independent Balkan News Agency
By Elton Tota
Three opposition political parties, Self Determination, Alliance for the Future of Kosovo and Incentive for Kosovo have warned that they will hold protests in order to overthrow Mustafa's government.
According to them, protests are the only way to stop what they call damaging projects for Kosovo such as the Association of Serb Communes, Special Tribunal and demarcation of border with Montenegro.
They even say that Kosovo is entering a wave of protests which will not stop until the government resigns.
Self Determination MP, Albulena Haxhiu says that this party will not stop its protests. She says that as of August 25, Self Determination has launched symbolic actions to inform people that the Association of Serb Communes is damaging.
"Prime Minister Mustafa is trying to make Republic of Kosovo dysfunctional and we are responding to this attempt with action and we will even hold massive protests. The creation of the association is dangerous. Although we have decided to enter Kosovo institutions, Self Determination will protest in any case it sees the country in a bad situation", Haxhiu said.
Meanwhile, general secretary of the Alliance for the Future of Kosovo, Blerim Kuci, says that the ignorance manifested by the governing coalition between PDK and LDK due to their numbers in parliament, is obliging the opposition to see protests as a solution.
"The government's ignorance is forcing the opposition to find an ulterior way of doing opposition, besides parliament. Opposition will ask the citizens' help to protest outside of parliament. Opposition parties will find the right way to stop the government's actions", Kuci adds.
Meanwhile, Incentive for Kosovo MP, Haxhi Shala, says that the leader of this political party, Fatmir Limaj has demanded the creation of an opposition front.
"Kosovo has entered a very difficult stage and the leader of Incentive has demanded the creation of an opposition front, which cannot only be made by opposition parties. But if intellectuals and civil society believe that Kosovo is being threatened by the government's decision, then they must join to defeat the government's arrogance of numbers", Shala declared. /ibna/