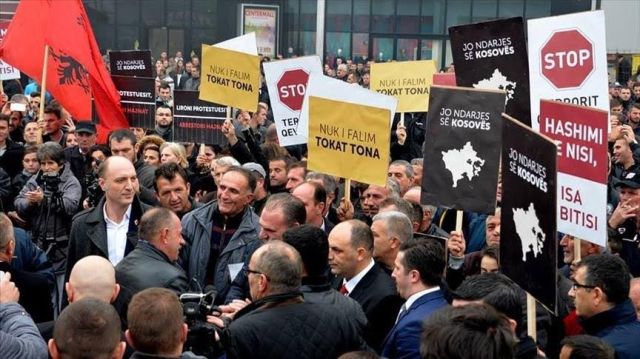 Pristina, 15 February 2016/Independent Balkan News Agency
By Elton Tota
While the government of Kosovo is getting ready to celebrate Independence Day on 17 February, opposition parties have announced a massive protest.
Representatives of the opposition parties, Self Determination, AAK and Incentive for Kosovo, called upon the citizens to participate on the 17 February protest.
The vice chair of Self Determination, Fatmire Mulhaxha-Kollcaku says that 17 February is the right date to protest.
"There's nothing to celebrate. It is a day of protest to show that even eight years later, the mission has not been accomplished", she says.
AAK's senior official, Ali Berisha says that what has been started by the opposition and the citizens must be finalized.
According to him, protests will not stop until the government resigns and the image of the country is restored.
Meanwhile, Incentive for Kosovo issued a press release where it demands the citizens to join in a protest on 17 February in order to show to those who violate the Constitution that it is time for them to leave and announce new elections.
"In front of their dictatorship, our solution is democracy. In front of crime, our solution is justice. In front of their theft, our solution is economic development, In front of their treason, our solution is love for the country. In front of ignorance, our solution is a detailed program", the statement says.
Opposition parties seem convinced that the 17 February protest against the government  will be a bigger protest than that of 9 January, which was considered to be the biggest one organized by the opposition since after the war.
Opposition representatives say that the opposition block is holding meetings with citizens every day in cities and villages and that citizens are ready to protest.
Meanwhile, prime minister of Kosovo, Isa Mustafa said on the 8th anniversary of independence that Kosovo is not yet the country that everyone has dreamed, but that all positive energies must be gathered to turn Kosovo into the path of stability and prosperity. /ibna/