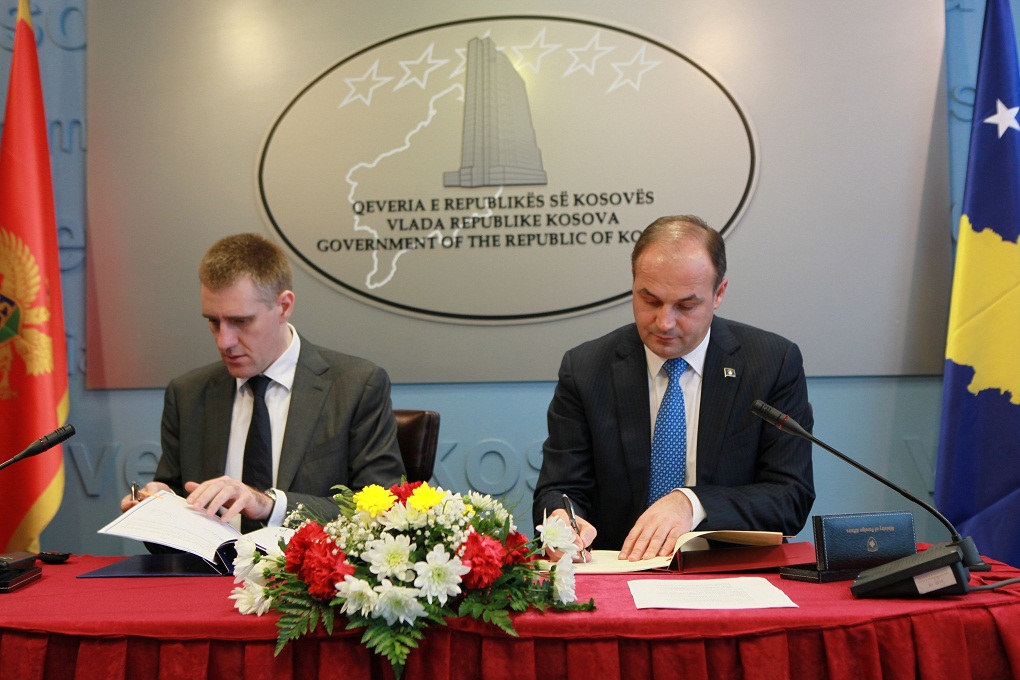 Pristina, February 28, 2014/Independent Balkan News Agency
By Elton Tota
Foreign Minister of Kosovo, Enver Hoxhaj has met in Pristina the deputy prime minister and Foreign minister of Montenegro, Igor Luksic. The two counterparts have talked about boosting up relations between the two countries, and what Hoxhaj has considered to be a shift from good neighboring relations to constructive neighboring relations.
In this bilateral meeting (photo), the two heads of diplomacy have underlined that there are no open issues between the two countries and opportunities for cooperation are great. In this framework, the two ministers have also signed a Memorandum of Cooperation.
After the meeting, Hoxhaj has declared that the excellent relations with Montenegro are not a prerequisite of the EU, but a need and domestic will.
Enver Hoxhaj has also announced the opening of the embassy of Kosovo in Podgorica, the finalization of the line of demarcation between the two countries and growth of economic, commercial and tourist relations.
"Starting from tomorrow, we will demand the opening of the embassy of Kosovo in Montenegro, because now there's an understanding with the Montenegrin side. This step follows the excellent level of cooperation between our two countries and at the same time, it offers the possibility for a new chapter between Kosovo and Montenegro in the domain of economy, trade, tourism and culture", said Hoxhaj.
On the other hand, Hoxhaj has also expressed the engagement of Kosovar institutions to fully integrate the Montenegrin community in the political and public life of the country.
Deputy prime minister and foreign Minister of Montenegro, Igor Luksic also confirmed the good level of cooperation between the two countries. He expressed the will of his government to further intensify these relations in many domains.
Hoxhaj and Luksic have agreed on both countries, Kosovo and Montenegro to help each other in regional incentives and organizations and also in the EU accession process. /ibna/