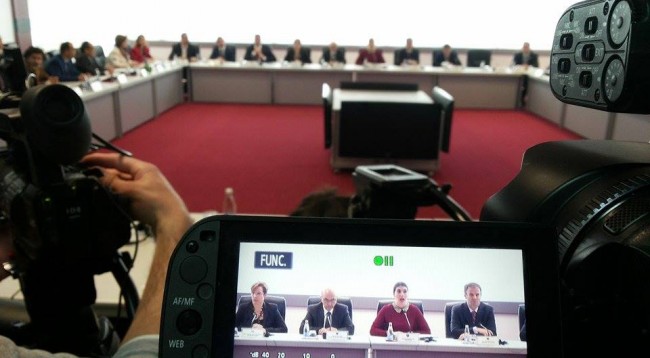 Pristina, April 8, 2015/Independent Balkan News Agency
By Elton Tota
On the World Day of Roma People, Kosovo's PM, Isa Mustafa has organized a ceremony with the participation of the heads of national and international institutions.
In his speech, PM Mustafa said that Kosovo respects the values of the Roma community and that the government chaired by him aims at improving the life of this community.
Mustafa said that the government will work in order to improve legislation that advances the rights of communities.
"Kosovo is determined for a multi-ethnic state, it respects multi-cultural values and it also aims at improving social-economic improvements for the Roma community", Mustafa declared.
He said that the institutions of Kosovo are responsible for the integration of the Roma community in the institutional life of the country and to put an end to the poverty that characterizes this community.
"We also have Roma MPs, vice ministers from the Roma community and this is not only a symbolic. Roma community is an integral part of Kosovo. This day also represents the special values of this community", said the PM.
Mustafa promised full equality for the Roma community.
"The equal representation of communities is our aim. We will work in order to improve legislation which helps with the rights of communities. I will be engaged for their employment, education and other domains of life, in order for everyone to have an equal access. We must offer equal chances to everyone", Mustafa said.
Meanwhile, US ambassador, Tracey Ann Jacobson said that Kosovo is an example for Europe and how a multi ethnic state should be.
"You know that one million Americans belong to the Roma community and the USA monitor the integration of this community. We congratulate the government on its achievements, but more must be done. We're happy, but we believe that access in education is necessary for all communities and we have helped with several centers for the education of Roma community", she said.
Meanwhile, OSCE ambassador to Kosovo, Jean Claude Schulmberger said that the government must improve the situation with the three communities: Egyptian, Ashkali and Roma, which according to him, are the most sensitive in Kosovo.
"They need assistance from the government in order to be equal to other communities. All policies must be implemented in order to improve the life of communities. The government must secure budget support", said Schlumberger. /ibna/