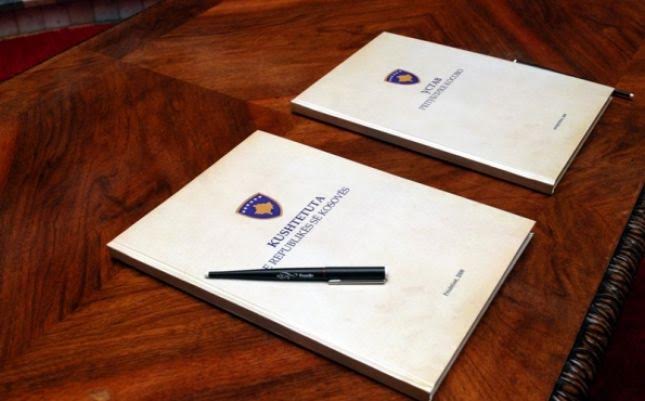 Pristina, 11 April 2016/Independent Balkan News Agency
By Elton Tota
On the 8th anniversary of the approval of the Constitution of Kosovo (9 April), the highest authorities of the country said that this document is an act based on the principles of freedom, peace and democracy.
Prime Minister Isa Mustafa said that this document has given way to the path of the development of Kosovo with the highest European standards.
"The Constitution of Kosovo, as the highest legal and political act that crowned our independence, is a symbol of the commitment and vision of the people of Kosovo for a democratic state in line with the European values, economic developed and integrated in European Atlantic structures", he declared.
On this important day, President of Kosovo, Hashim Thaci, swore that he will serve as a guarantor of the functioning of the institutions of the country, in accordance with the highest legal act and other acts in power.
"With this Constitution, we laid the foundations of the state that we have today, which promotes and protects human rights and makes a clear division of powers in our democratic system, where the citizen is a true sovereign", Thaci said.
Meanwhile, experts of legal issues told IBNA that during these eight years, the highest legal act has been accompanied by different challenges.
"During this time, Constitution of Kosovo has initially faced the challenge of the executive powers of international missions, which had more power than our Constitution. Meanwhile, even after the monitoring of the independence was removed, there are things that still challenge the Constitution", said professor of law, Fatos Rushiti.
According to him, state institutions, politics and the citizens of the country have not respected the highest legal act.
Meanwhile, one of the drafters of the Constitution, professor Arsim Bajrami, currently minister of Education, Science and Technology, says that the Constitution of the country has met its primary mission, that of consolidating the state and creating state capacities.
He said that processes in Kosovo are dynamic and that now, a priority must be given to new realities and European integration.
Approved on 9 April 2008, the Constitution of Kosovo is based on the Ahtisaari document, which also served as a basis for the proclamation of independence on 17 February 2008.
Constitution defines Kosovo as a democratic and secular state, with a multi ethnic society, consisting of Albanians and other communities. /ibna/