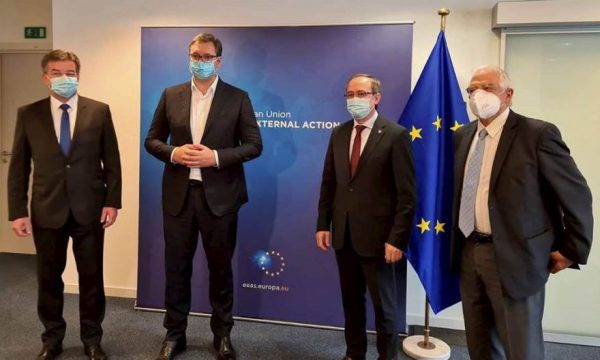 The European Union has not set a date for the resumption of the Kosovo-Serbia dialogue, which was delayed last month after Kosovo refused to reopen the debate on the Association of Serb-majority municipalities, as requested by Serbia.
EU spokesman Peter Stano said on Wednesday that they were working on the next meeting and would announce the dates in due course. "The work continues for the further preparation of the meetings in the framework of the Dialogue. We will announce the date and agenda of the next meetings, either at expert level or at the highest political level, when needed", Stano said.
The suspension of the EU-mediated dialogue in Brussels took place despite the visit of EU Special Representative for Dialogue Miroslav Lajcak, who visited both Pristina and Belgrade last week. It seems that his visits did not yield results that would bring the parties closer to the resumption of the dialogue. Lajcak said the Kosovar side had agreed to establish the Association of Serb majority Municipalities, under an agreement reached in 2013. However, officials in Pristina rebutted Lajcak's claims, reiterating that Kosovo's position on the Association remains unchanged.
Lajcak raised eyebrows amongst Kosovar political leaders with his remarks to the press from Belgrade that Kosovo must change its constitution to reach a final agreement with Serbia. However, EU officials in Brussels said Lajcak had been misinterpreted and that what he meant was that both countries needed constitutional amendments if they wished to conclude a final agreement.
"Mr Lajcak has explained what will happen if you negotiate an international agreement. When reaching an international agreement, the necessary legal adjustments must be taken into account by the government, even at the constitutional level, in order to incorporate it into their domestic case law and constitutional order. This applies to both Kosovo and Serbia", Stano said on Monday.