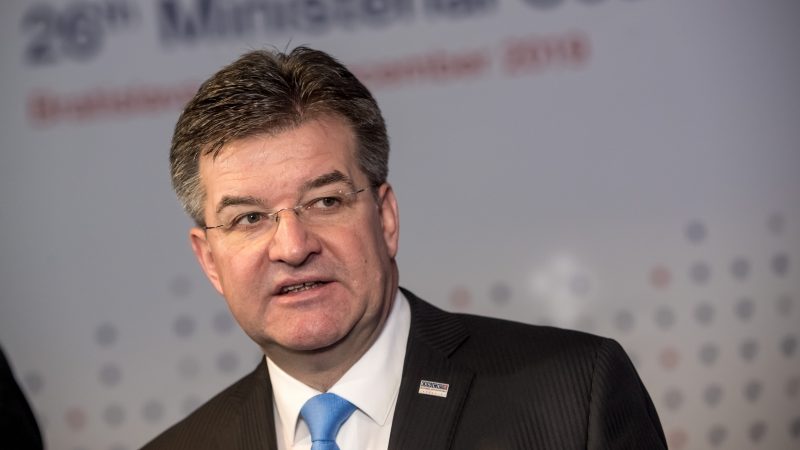 The EU special envoy for the Belgrade-Pristina dialogue, Miroslav Lajcak, posted a series of photos on his Twitter account with a map of the Western Balkans adorning his office, provoking reactions in Kosovo.
During an interview with Miroslav Lajcak from his office, the blurred image behind him showed a map of the Western Balkans that, according to Kosovo media, did not show the border line between Serbia and Kosovo, as provided for in Resolution 1244.
More specifically, Kosovo journalist and editor-in-chief of Klan Kosova TV, Adriatik Kelmendi, wrote on Twitter that Lajcak should apologize for sitting during the interview in front of a map depicting Kosovo as part of Serbia, "otherwise he should be welcomed by anyone in Kosovo on Monday".
BE për hartën ku shfaqet Kosova si pjesë e Serbisë: Kemi pozicion neutral https://t.co/ZNroXKnOi4

— Adriatik Kelmendi (@adriatikk) February 25, 2021
"If his gesture comes from negligence, it shows how recklessly he took on his role as EU negotiator in the dialogue process, and that is bad news. If he did it consciously, then he is complying with Serbia and he cannot be considered impartial in the dialogue", Kelmendi said.
Stano: Official map of the EU
Following the post by Klan Kosova journalist, EU spokesman Peter Stano said that the map in the office of the EU Special Representative for the Belgrade-Pristina dialogue was an "official EU map" that it is neutral on the issue of Kosovo, which is in line with the EU position.
Miroslav Lajcak, in an attempt to disuse the situation, published the map that adorns his office, clarifying that the map is the official EU for the Western Balkans.
"As the map in my office in the blurry snapshot of my interview caused some misunderstandings today, I share a real close-up photo. It is an official EU map of the Western Balkans. Kosovo is there and that is the line that separates Kosovo from Serbia," Lajcak wrote.
As the map in my office in the blurred screenshot of my interview has caused some misperceptions today, I am sharing an actual close-up photo of it. It is an official EU map of the Western Balkans. Kosovo is there and so is the line separating Kosovo from Serbia. pic.twitter.com/VXFggOLmug

— Miroslav Lajčák (@MiroslavLajcak) February 25, 2021
Continuing in his post, he notes that this "today is an example of why the Dialogue for the normalization of relations between Kosovo and Serbia is so important. So that such issues will no longer cause misunderstandings"./ibna