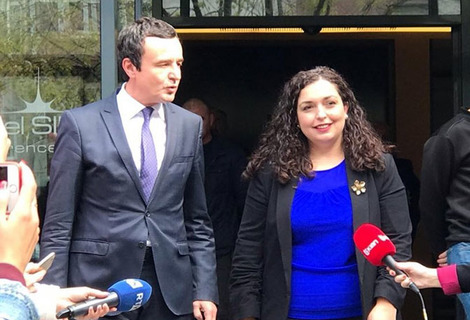 Kosovo Executive President Vjosa Osmani and the leader of the Self-Determination Movement, Albin Kurti, have signed an agreement to run jointly in the snap parliamentary election on February 14, it was announced to reporters.
The agreement between the Self-Determination Movement and the Vjosa Osmani Initiative contains ten points, including "the priority of a functioning review of the judiciary, with audit as an integral part of this process, as well as full determination for an irreconcilable fight against corruption".
The agreement stipulates that Osmani and Kurti prioritize their campaign in the post-pandemic economic recovery, directing investment and budget planning in the areas of health, environmental protection, digitization, investment in human capital, promotion of local production, in order to accept the sustainable concept of innovative economic development.
Their desire is for the people who will lead the government services to be fit, competent and with integrity, and that they will be elected by mutual consent.
The review and adoption of local legislation, as well as the responsible implementation of the necessary reforms in line with European standards in order to integrate Kosovo into the European Union, as well as Kosovo's accession to NATO and other international organizations, is also one of the points of the Kurti-Osmani agreement.
Among other things, the political duo will commit to "a unified and integrated representation in decision-making in the Pristina-Belgrade dialogue process".
The agreement also stipulates that it will support "respect for the constitution and non-support of any initiative that violates constitutional rules, territorial integrity, the principle of state unity and sovereignty", and the organization of a diplomatic service representing Pristina at an international level.
Kurti and Osmani will also work to maintain and develop alliances with international partners and invest in expanding and promoting current and future alliances.
One of the goals is to achieve gender equality in government and other institutions, as well as "obtaining consensus and a preliminary agreement on strategic processes in the country"./ibna