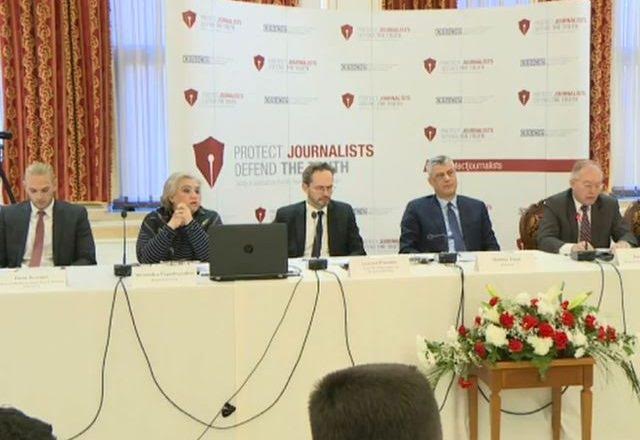 Media and journalists in Kosovo face great problems and challenges.
The head of OSCE in Kosovo, Jan Braathu says that in the recent years, there have been more than 50 attacks against journalists in Kosovo.
"Threats and violence against journalists are challenges for the freedom of the media in Kosovo. The progress report has also identified the safety of journalists as a shortcoming which must be addressed immediately. It says that there's a need for a systematic approach and a fair judgment in the case of journalists", Braathu said.
The head of EULEX, Alexandra Papadopoulou said during the conference for the safety of journalists organized by the OSCE, that free and independent media is a condition for good governance.
Papadopoulou has mentioned cases of journalists who have disappeared and killed during and after the war in Kosovo.
Meanwhile, president of Kosovo, Hashim Thaci said that journalism in Kosovo is one of the bravest in the region. According to him, after the war, there has been a significant support from the international community in order to build a professional journalism. He said that the creation of the organizations that support the rights of journalists has been supported.
According to Thaci, the problem in Kosovo is not the freedom of speech, but the fact that those who are not journalists, abuse with the freedom of the media.
"It's our job to support journalists and protect professional journalism", Thaci said.
Meanwhile, media representatives in this conference declared that the media and journalists continue to face the lack of financial support, the functioning of law and order and pressure by interest groups. /balkaneu.com/