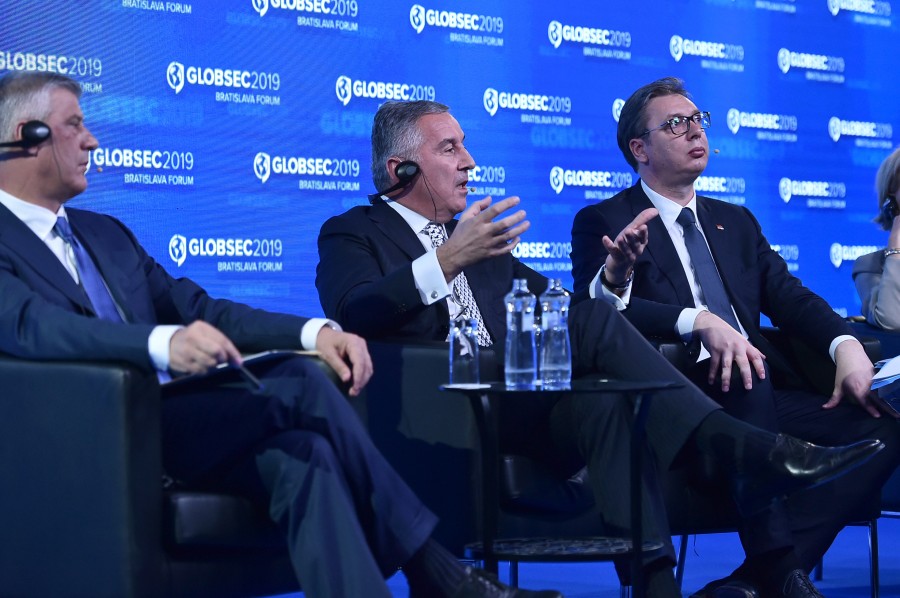 The resolution of the Kosovo issue is important for regional stability but also for Europe, and the solution should be based on compromise, said Milo Đukanović, President of Montenegro, whilst in Bratislava at the panel of GLOBSEC 2019 forum.
The forum is dedicated to the dialogue between Belgrade and Priština, with the participation of the Presidents of Serbia and Kosovo, Aleksandar Vučić and Hashim Thaci, as well as the Director of Western Europe, Western Balkans, and Turkey at the European External Action Service, Angelina Eichhorst.
"I really hope (Aleksandar) Vučić and (Hashim) Thaci will continue the dialogue. I think that the most important thing is that this dialogue continues, that the participants return to the negotiations," Đukanović said.
Đukanović added that he hopes that the solution to the Kosovo problem is possible. He expressed the hope that Belgrade and Pristina will continue the talks about Kosovo in Paris.
"The Kosovo issue must be resolved by compromise, whilst respecting the interests of both sides," Đukanović said.
He assessed that the Kosovo issue is not only a regional but also a wider issue.
"I think it is important that Europe recognizes its great responsibility in this issue. This is "par excellence" a security issue for Europe, and Europe is right here," Đukanović said.
The discussions were also stigmatized by mutual Vučić-Thaci accusations regarding the break of the discussions and negotiations.
Vučić said in a panel debate that Belgrade is prepared to continue the dialogue as soon as Priština revokes the 100 percent tariffs it imposed on goods from Serbia and Bosnia & Herzegovina. His Kosovo counterpart Hashim Thaci replied, saying that the dialogue cannot continue if conditions are set, which, according to him, is what Serbia is doing.
Thaci expressed the hope that the coming summit in Paris will bring positive developments, adding that a final solution can be reached by the end of the year. The Kosovo president said that he highly appreciates Vučić's role in encouraging the Serbs to participate and vote.
"Kosovo has to respect the agreement and implement the formation of the Community of Serb Municipalities, in accordance with the constitution and laws, but unfortunately, the Serb List has prevented Kosovo politicians from taking part in the drafting of the Community's statute," he said.
Responding to Thaci's comments on the Brussels Agreement, Vučić said that Serbia had met all of its obligations in accordance to the agreement, while Priština had failed to do the one thing it had agreed to – the forming of the Community of Serb Municipalities.
"I am prepared to continue the dialogue with Thaci, with whoever he wants. No one here, not even Hashim can say that we failed to meet some obligation," he said./ibna