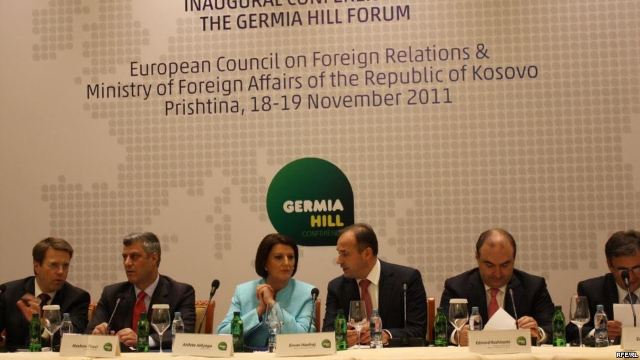 Pristina, 3 February 2016/Independent Balkan News Agency
By Elton Tota
"Germia Hill" international forum is taking place in Pristina with the participation of over 100 foreign personalities including foreign ministers, military officials, representatives of civil society and journalists, This conference is discussing security issues in Southeastern Europe in the framework of wider regional challenges.
The conference which started on Tuesday, aims at helping Kosovo to promote the NATO integration agenda, including Kosovo in important regional security debates.
At the start of the meeting, Prime Minister of Kosovo, Isa Mustafa, declared that Kosovo is interested on being a factor of stability in the region and Europe.
Mustafa stopped on phenomena which are considered as threatening for the security in Europe and the world, such as refugees, extremism and terrorism and the political involvement of Russia in the region and beyond.
As far as migration is concerned, Mustafa said that this phenomenon may threaten European values, but he rejected all comparisons that are made between Kosovo and the number of refugees that swarm Europe from Syria and Middle East.
"We have worked a lot in order for the number of our asylum seekers to fall dramatically. EU leaders have also praised our work, because from 13 thousand asylum seekers from Kosovo last February, this number went down to 5 thousand last December. This result has been achieved by cracking down on the ring of traffickers", Mustafa said.
According to Mustafa, Kosovo is worried about the lack of free movement of its citizens, who must still apply for visas in order to travel in EU member countries.
Mustafa has pledged that Kosovo will remain a leader in the region in the fight against extremism and terrorism. According to him, this phenomenon is being fought and that no tolerance will be shown in the future.
In her speech, president of Kosovo, Atifete Jahjaga said that Kosovo must have its place in all international mechanisms and organizations, including participation in peacekeeping missions.
While expressing her engagement for equal treatment of all communities in Kosovo, Jahjaga said that in the international aspect, Kosovo has no territorial claims toward any other countries.
"As a state, we aim at further building and strengthening our strategic and permanent partnership with the USA, because we share a commitment for joint values of freedom and democracy. Kosovo applies a policy of good neighboring relations with all the states. It has been built based on the principle that all citizens are equal, regardless of their ethnicity, religion and race", Jahjaga said.
Meanwhile, Mimi Kodheli, Albania's Defence Minister stressed the role that Kosovo's integration in the European Union and NATO can have in the security of the region.
"Today, Western Balkans has a tendency, influence and a totally western future. But this desire to be part of the west and not the east, doesn't suit Moscow, which has old connections with this region. It suits even less to a so called Islamic state, which is manifesting radicalism through barbarism", Kodheli said.
During the start of the proceedings, deputy Prime Minister of Montenegro, Dushko Markovic, said that the new security challenges are common for all countries of the region.
"Security issues can only be addressed through cooperation and joint mechanisms of international security", he declared.
Meanwhile, Kosovo's Foreign Minister, Hashim Thaci stressed that Brussels' hesitation to treat and accept Kosovo like other countries that have aspired or aspire European integration, bears the risk of the rising influence from Russia or other countries affected by extremist and terrorist organizations.
Therefore, Thaci has demanded for the visa regime to be lifted and for Kosovo to be gradually accepted as part of the European Union, NATO and all other international security structures. /ibna/