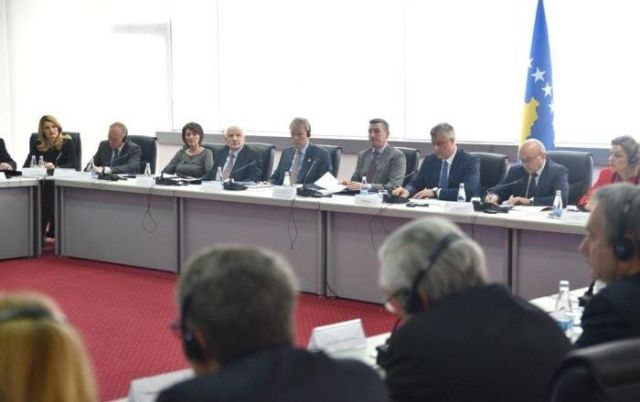 In order to advance toward a European future, the crimes committed during the last war in Kosovo must be discussed and admitted.
"I have been in the war and I have lived the destruction and the hate that has existed. I have seen that the suffering is the same for everyone, regardless of the communities affected. The pain of an Albanian of Kosovo is no greater than the pain of the relatives of people belonging to other communities."
This was declared today by the president of Kosovo, Hashim Thaci during the presentation of his incentive for the establishment of the Commission for the Truth and Reconciliation, IBNA reports.
He said that the scope of this incentive is for people to start a new life by accepting the crimes that have been committed.
"This would not make justice, but it would help it. It doesn't mean that crimes would be concealed or that someone would hide behind a crime. The truth must be known even if it is painful. The young generations must know what previous generations have done. This first meeting comes after having been consulted with world leaders and Nobel prize winners for peace", he said.
Thaci said that the truth about war crimes and justice will also help dialogue for the normalization of relations between Kosovo and Serbia.
Meanwhile, PM Isa Mustafa said during the first consultative meeting for the establishment of the Commission for the Truth and Reconciliation, summoned by the president of the country, Hashim Thaci, said that by fighting yesterday's evil, a better future can be built.
"The efforts being made for the harmonization and cooperation is welcome. By respecting the principles that honor our state, we lay the foundations to build a state for everyone. Kosovo is a state which doesn't fear its past and it is entitled to be sure of its future", he said.
Present in this meeting are also representatives of the diplomatic centers in Pristina and members of civil society. /balkaneu.com/