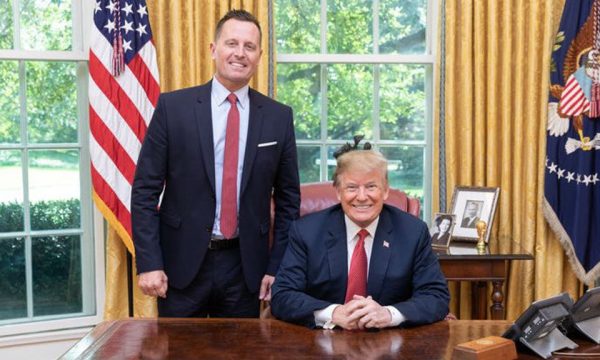 Kosovo Prime Minister Avdullah Hoti has confirmed that US Special Envoy for the Kosovo-Serbia Dialogue, Ambassador Richard Grenell, has proposed US President Donald Trump as the new name for Lake Ujman in northern Kosovo.
Hoti said in a Facebook post that he welcomed the idea as a sign of gratitude for his excellent role in reaching the historic Kosovo-Serbia agreement on economic normalization, which Hoti said was an important step towards a final political agreement on mutual recognition between the two countries.
"As a tribute to their decisive role in the freedom, independence and recognition of Kosovo's state entity around the world, we have named our best boulevards after US dignitaries such as Presidents Clinton and George Bush, Senator Bob Dole, Secretary of State Madeleine Albright and others", Hoti said, adding that Kosovo and its citizens would be forever grateful for this special and eternal friendship.
"It is our tradition and culture to honor the Friend! This is a noble tradition of our ancestors that we will always honor", Hoti wrote.
On September 4, Kosovo and Serbia reached an agreement in the White House on economic normalization between the two countries, in the presence of US President Trump himself. The agreement stipulates, among other things, that both countries agree to work with the US on a feasibility study to share the disputed Lake Ujman, which Serbs call Gazivoda.
Lake Ujman/Gazivoda is mostly located in the northern part of Kosovo, but almost 20% is part of Serbia. This artificial lake was created decades ago by the Iber Lepenci company when Kosovo was part of Yugoslavia. Since the end of the war in 1999, there has been a lot of tension over the lake, as Kosovo considers it its property, while Belgrade claims to belong to Serbia./ibna