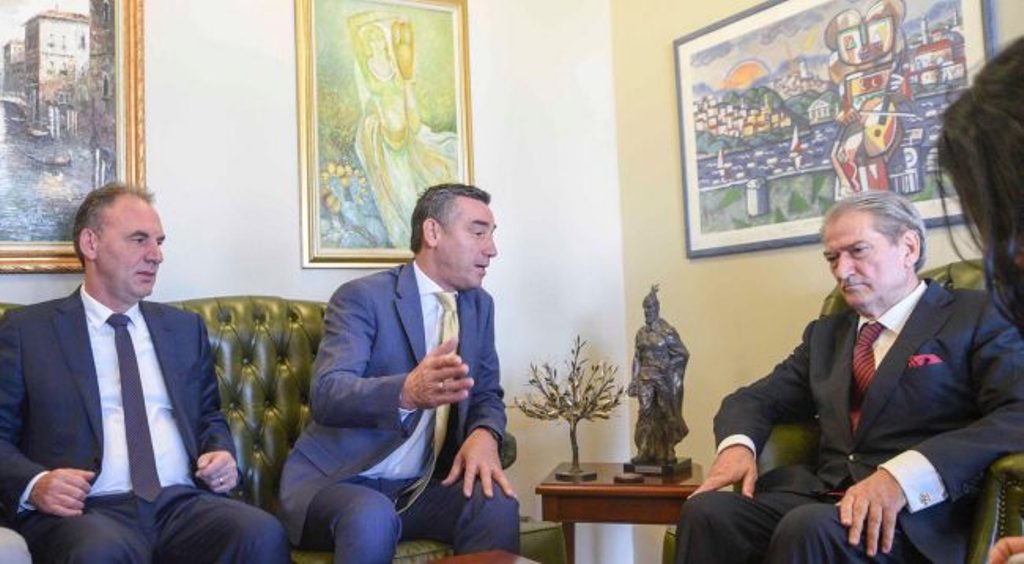 The speaker of the parliament of Kosovo, Kadri Veseli and deputy Prime Minister, Fatmir Limaj have started an official visit to Tirana where they are meeting with state leaders and opposition officials in the country.
They said that they're holding consultations with representatives of the Albanian political class concerning the dialogue for the normalization of relations with Serbia.
Following a meeting with former Prime Minister of Albania, Sali Berisha, parliamentary speaker Veseli declared that political parties in Kosovo should be united about the issue of dialogue with Serbia.
Veseli has once again reiterated that he's against the idea of partition or land swaps between Pristina and Belgrade, demanding Kosovo's state sovereignty to be preserved intact.
Meanwhile, former PM Sali Berisha declared that the agreement between Kosovo and Serbia and the dialogue between the two countries is very important, not only for the two countries in question, but also for the region in general.
"I believe that Kosovo's territorial integrity and its sovereignty is not up for discussion", Berisha declared.
He has also denounced Belgrade's "projects", which, according to him, they lead to instability.
On the other hand, in Kosovo, PM Ramush Haradinaj said that the game with the borders is a dangerous experiment, while rejecting the idea for border changes.
His comments follow the request addressed by political leaders in the Presevo Valley following a meeting with president Thaci, where demanded the union of this region with Kosovo.
The recent declarations have sparked many debates on the way the situation between Kosovo and Serbia should be resolved. /ibna/