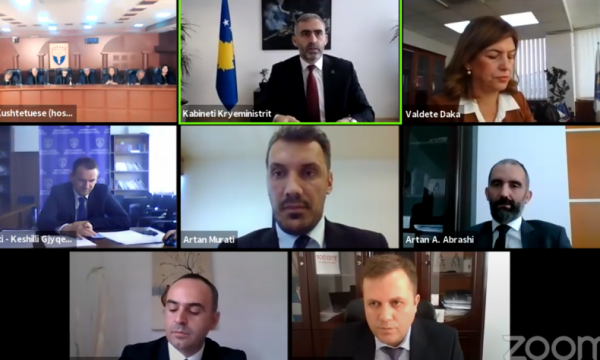 Kosovo's Constitutional Court held a public hearing on Wednesday on the legitimacy of Kosovar MP Etem Arifi's dubious vote, that was proven decisive in the formation of a new government led by Avdullah Hoti.
Arifi, an MP representing the Ashkali community, was convicted of fraud in 2018, however that did not stop him from attending a parliamentary session in June 2020 and voting in favor of the new government led by Avdullah Hoti of the Democratic League of Kosovo (LDK). His vote was crucial to creating a 61-vote majority in a 120-seat parliament, electing Hoti as Kosovo's new prime minister.
On June 11, the opposition Vetevendosje party, whose leader Albin Kurti lost the parliamentary majority after confidence in his government was revoked at the session convened by the LDK, filed a request to the Constitutional Court regarding the constitutionality of Arifi's vote. The Vetevendosje Movement told the Constitutional Court that an MP's mandate expires or becomes invalid when "the member of parliament is sentenced to one or more years in prison with a final court decision on the commission of a crime." The judges of the Constitutional Court heard the legal interpretation of all parties involved, including Vetevendosje, the Government of Parliament and the LDK.
Court President Arta Rama-Hajrizi informed the parties that they must submit in writing their views expressed at today's hearing by 7 December 2020 at the latest. He said a decision on the case is expected in the coming days.
A decision in favor of Vetevendosje would call into question the legitimacy of the government and create a new political situation in Kosovo. /ibna