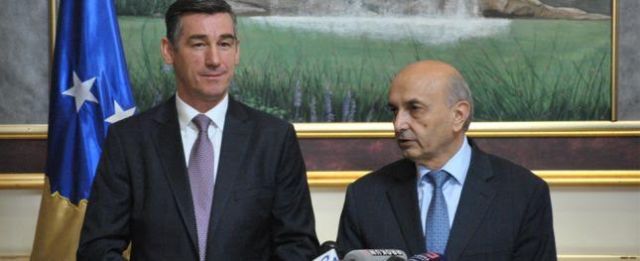 The governing coalition between PDK and LDK in Kosovo is discussing a government reshuffle or hold new elections.
The leader of the Democratic Party of Kosovo (PDK), Kadri Veseli says that the country must head to early elections if all political parties agree to this.
"First of all, Kosovo needs a rapid revitalization and a restructuring of policies which relate to economy and EU integration. But we will hold elections when both the majority and the opposition agree to it", Veseli said, stressing that he believes that the governing coalition is stable.
Speaker of Parliament, Veseli said that even in case of eventual elections, international obligations and obligations stemming from the Ahtisaari's Document, will remain obligations for whomever comes in power.
But the Prime Minister of Kosovo, Isa Mustafa, who is leader of the Kosovo's Democratic League (LDK).
"The new general elections will be held in 2018, while the local government elections will be held next year. We are currently committed for other things", Mustafa said, denying the possibility of early elections.
On the other hand, leader of the largest opposition party, Visar Ymeri told IBNA that the elections are the only way to solve the deep political crisis.
"The current coalition has long lost its legitimacy. This coalition has brought the country an agreement that divides Kosovo on ethnic basis and which was later declared unconstitutional. This government has lost the faith of the people, because there are 205 thousand people who have signed a petition against their projects: Demarcation and Association, but also the faith of another 100 thousand who have protested several times in Pristina. This government must leave, because instead of creating 300 thousand jobs that it promised before entering office, it has only brought violence and misery."/balkaneu.com/