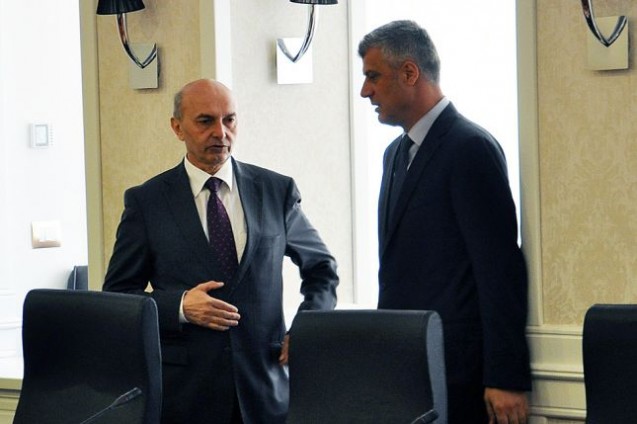 Pristina, 25 May 2015/Independent Balkan News Agency
By Elton Tota
The election of the new head of the state may send the Republic of Kosovo to early general elections.
IBNA learns that the Democratic League of Kosovo has not been very eager to respect the agreement of the governing coalition, according to which, leader of PDK, Hashim Thaci would be elected president of the country.
A significant number of LDK lawmakers are not willing to back Thaci's candidacy for president.
Besides this, they will not even be present in the house of parliament to meet the quorum at the moment his candidacy is voted.
LDK lawmaker, Vjosa Osmani says that she may not vote the head of LDK as president of the country.
"As head of the state, Thaci would not be doing a favor to Kosovo, therefore I don't see any reason to vote him. I also hope that there will be an adequate number of MPs who will refuse such proposal, in order not to meet the quorum on the day this proposal reached parliament", Osmani says.
Osmani MP, which was the most voted woman in the recent elections, says that there are many MPs who may not back Thaci.
"I will collaborate with each MP who thinks that Kosovo has a better candidate to elect as president of the country. It's only natural that I don't vote Thaci, because since the very start, I have objected the coalition in its entirety", she added.
Other LDK lawmakers, such as Adem Salihaj and Armend Zemaj, will not obey to their boss in voting Thaci.
They say that LDK may come out with a counter candidate if PDK leader is nominated for the post of president.
Besides LDK lawmakers, the opposition is also against the candidacy of the leader of PDK, along with several minority parties.
Vice chairman of LDK and current speaker of parliament, Kadri Veseli says that if LDK doesn't comply with the governing agreement, they country may head to elections.
The same opinion is also shared by PDK lawmaker Hajredin Kuci.
"There may be those who may act differently, which is only democratic, but I believe that in 2016, we will implement the agreement and in 2018 there will be fresh general elections. Otherwise, according to the Constitution, if the president is not voted on the third attempt, then the country heads to local elections", Kuci said.
IBNA learns that another problem which has shaken the governing coalition is the incentive of LDK lawmakers for the Special Tribunal to also investigate the killings taken place after the war, where senior officials of PDK are alleged to have contributed in killing of main figures of LDK during that time.
These demands have been objected by PDK and if the agreements are not respected, the country may head to early general elections in Autumn. /ibna/