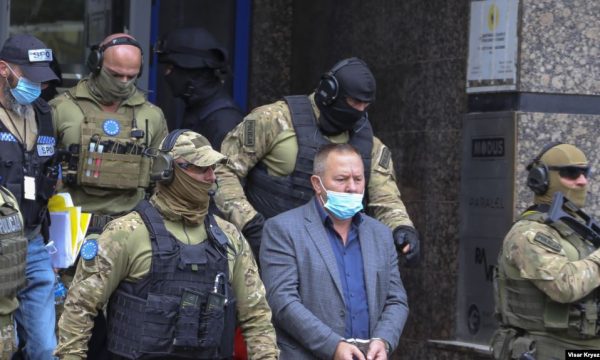 The Kosovo Specialist Chambers (KSC) in The Hague announced that the president of the KLA War Veterans Organization, Hysni Gucati, will make his first appearance before them on October 1.
His first appearance will be in the form of a public hearing and can be watched live on television, the Special Curator said.
Gucati was arrested on September 25 by the Special Prosecutor's Office on suspicion of obstructing justice.
"There is a substantiated suspicion that Mr Gucati conducted three press conferences on 7, 16 and 22 September 2020, where he distributed or made available to the media information and confidential and non-public documents related to the work of the Office of the Special Prosecutor and did not intervene when Nasim Haradinaj (Deputy Chairman of the Kosovo Liberation Army OVL War Veterans Organization OLA) mentioned the name of a witness and provided information on where he lived and other personal information", the arrest warrant on Gucati said.
Gucati was arrested at the KLA's OVL offices on September 25 after the Special Prosecutor's Office carried out a raid that lasted more than eight hours. The same day, the organization's vice president, Nasim Haradinaj, was also arrested, also suspected of obstructing justice. Haradinaj made his first appearance in court on September 29.
Three times in a row, KLA OVL conducted press conferences where materials allegedly confidential documents of the Special Court were distributed.
The contents of these documents are unknown and have not yet been confirmed as authentic.
TheKosovo Specialist Chambers and the Special Prosecutor's Office, otherwise known as the Special Court, are based in The Hague and are investigating alleged war crimes by members of the former Kosovo Liberation Army./ibna