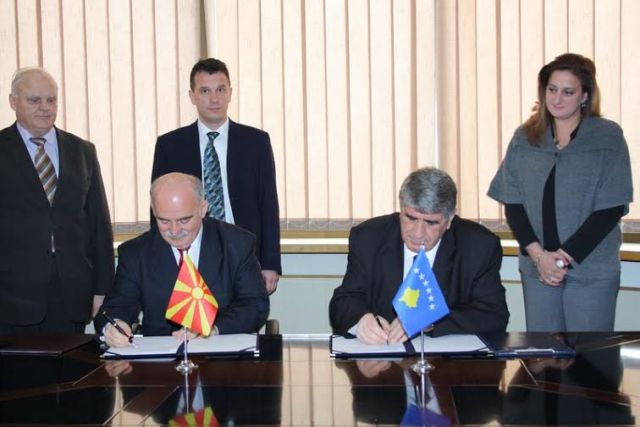 IBNA Special Report
Pristina, January 15, 2015/Independent Balkan News Agency
By Elton Tota
Government of Kosovo and that of FYR Macedonia have boosted efforts to coordinate their actions against terrorist groups and organized crime that threaten security and well-being of the citizens.
Prosecutors of both countries have signed a memorandum of understanding in order to coordinate activities for the fight against terrorism and international organized crime.
Under this agreement, FYROM and Kosovo will appoint special prosecutors in order to help cooperation between the two prosecutions, something which will remove barriers in the work done by officials, direct contacts and operational agreements.
Officials from both countries say that cooperation between the two prosecutions will be encouraged through the exchange of information and documents, by delivering extradition requests and other forms of legal cooperation and by offering legal assistance.
Prosecutor of Kosovo, Sule Hoxha says that cooperation is necessary, because organized crime and terrorism in Kosovo has an impact in the well-being of the citizens.
"2013 saw the obliteration of 61 criminal gangs. Last year, in November, we obliterated 45 criminal gangs which were also active in the region. Based on cooperation and coordination between prosecution and police, special prosecution is making investigations for 130 people", said Hoxha.
FYROM's minister of Justice, Adnan Jashari says that his country and the Republic of Kosovo must boost cooperation in the domain of justice, namely between prosecutions.
"Exchange of knowledge and experience is our joint objective and an important tool that will contribute for further development of legal systems", said Jashari.
Analysts told IBNA that cooperation between the two prosecutions is necessary, although it has arrived late.
"This coordination of activities will enable a better knowledge of mechanisms for the fight against organized crime and it will also intensify legal action against international criminal organizations and their leaders who are identified and arrested quicker", says law professor, Fatos Rushiti.
According to him, this agreement is the initial sustainable example for cooperation to take place in other domains too.
"This agreement shows that so far, neighboring countries have done very little in applying joint policies in fighting serious crimes, therefore we believe that it's necessary to act together. I believe that cooperation between the two governments must also intensify in other domains such as education,, health, etc", says he.
Experts say that Kosovo and FYROM have approved laws, strategies and plans of measures to tackle terrorism and organized crime based on EU standards, but they add that mechanisms must be found in order to implement these legal acts. /ibna/