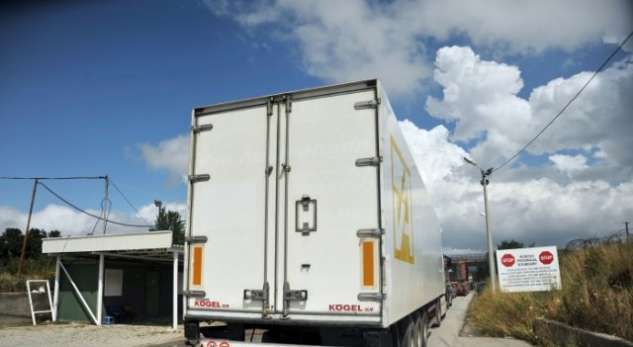 Pristina, 12 May 2015/Independent Balkan News Agency
By Elton Tota
Kosovo's economy continues to be non functional and non competitive compared to producers in the region and EU member countries.
In the absence of standards and state subsidies, Kosovo products are unable to penetrate in the domestic market, let alone regional and international markets.
Under these circumstances, Kosovo continues to face a high trade deficit.
Spokesman of the Customs of Kosovo, Adriatik Stavileci says that during the period from January to March 2015, the value of exported potatoes was 749 213 Euros or 18.96% of export.
He says that potatoes are followed by grape, including wines, at a value of 688 695 Euros or 17.43 of export.
Meanwhile, according to him, natural and sparkling water amount to 543 974 Euros or 13,76% of exports.
Meanwhile, as far as import is concerned, the spokesman of the Customs of Kosovo, Adriatik Stavileci said that for the first quarter of 2015, tobacco leads with 8,40% of imports.
Over 64 million Euros worth of imports from Serbia
In the first quarter of 2015, imports from Serbia amount to 64 million Euros, while Kosovo's exports to Serbia amount to only three million Euros.
Mr. Stavileci says that these figures lead to a 90.16% deficit.
"For the first quarter of 2015, the second biggest exporter for Kosovo after Serbia is China with 48 460 068 Euros, while Kosovo has exported zero products to this country. 47 396 814 Euros worth of goods have been imported from Germany, while the value of exports to this country is 1 910 758 Euros.
Meanwhile, Kosovo's imports from Brazil amount to 5 793 969 Euros, while exports were zero", said Stavileci, adding that Italy, Turkey, FYROM, Albania, Greece and India the main countries from which Kosovo imports.
On the other hand, the head of the Kosovo Farming Union, Tahiri Tahiri declared that besides potatoes and vegetables, Kosovo is unable to export anything else.
He said that domestic producers are not favored in terms of customs policies.
"Customs policies favor those merchants who import agricultural products rather than favoring our producers to export", he said.
According to him, the government is connected with these merchants in order to exchange favors with them.
Tahiri says that the farmer in Kosovo are facing high prices of fertilizers, seeds and dishonest competition from import.
He said that Kosovo has major problems, for which he blames the government. /ibna/